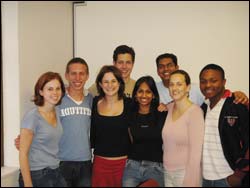 SHAWCO's new youth-development steering committee: (back, from left) Nick Friedman and Amit Dass; and, (front, from left) Jane Watson, Jon Hodgson, Kate Orkin, Pranisha Maharaj, Janice Foster and Garikai Nyaruwata.
SHAWCO committees take over the reins
It's that time of the year when student organisations pass on the mantle from one group to another. So, too, a new youth-development steering committee took office at the Students' Health and Welfare Centres Organisation (SHAWCO) recently. The group is a blend of experience and youth, a number of "old hands" joined by a few first-timers keen to make a contribution. The committee for the next year will be Kate Orkin (president), Amit Dass (vice-president and finance), Janice Foster (curriculum planner), Nick Friedman (community relations), Jon Hodgson (curriculum planner), Pranisha Maharaj (marketing and events), Garikai Nyaruwata (evaluations), and Jane Watson (human resources). The committee - whose catchphrase reads: "Development Through Passion" - oversees the about 100 students that run the youth-development projects of SHAWCO.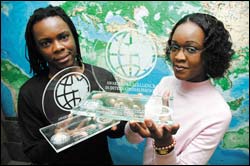 Out of Africa: Lebethe Malefo and Carol Ojwang show off the IEASA-Golden Key awards IAPO has won over the past two years.
IAPO among the awards again
UCT's internationalisation programme has yet again earned plaudits. At the annual conference of the International Education Association of South Africa (IEASA), held in Johannesburg in early September, the International Academic Programmes Office (IAPO) won second prize for Excellence in Internationalisation, an award made by IEASA and the Golden Key International Honour Society. The second place is one spot better than UCT's 2004 finish. At the same gathering, Lebethe Malefo, coordinator of mobility programmes at IAPO, was elected to serve on IEASA's national committee for the next year. He will fill the student liaison portfolio, tasked with giving students a voice in the discussion around internationalisation on South African campuses.
---
This work is licensed under a Creative Commons Attribution-NoDerivatives 4.0 International License.
Please view the republishing articles page for more information.
---