Going for gold
Golden Key (GK) International Honour Society recently held their annual induction ceremony in Jameson Hall, to honour and welcome the new members that have joined the society. This prestigious event was held during July and, as always, the evening gave the new members an opportunity to see what the society has been up to in the last year, and to receive their lifetime membership certificates. Golden Key membership is through invitation only, and is extended to students in the top 15% of each faculty.
According to members, this year's ceremony was one of the most successful to date, with more than 500 of the 700 new members attending the gathering.
The guest speaker was honorary member and UCT psychologist Dr Helgo Schomer. Other honorary members included Mert Black, director of Deutsche Securities, Professor Danie Visser (law) Dr Rosemary Joyce Exner (Fuller Hall), Shamla Naidoo, (orientation) and Jane Hendry (institutional planning).
In conjunction with Johannesburg consultants McKinsy & Company, GK also hosted a CV workshop exclusively for the UCT chapter. McKinsy, who wants to recruit UCT GK members in particular, gave invaluable advice about setting up a good CV. They will be hosting another event at UCT later in September. For more information and pictures, visit GK's website at http://www.gk.src.uct.ac.za.
Hip Hop Club's leg up for street people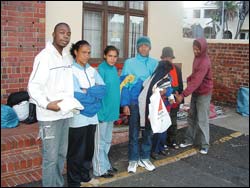 Hip-Hop outreach: Club members xEx and Tido helping in the street.
The UCT Hip-Hop Club, which sometimes performs at the Leslie Social Science building, is appealing to the university community to help people living on the street:
"Now what about if we can do something for these people that we see everyday sleeping in card boxes in front of shop doors?
"There are so many students who are willing to help but they just have not found a right channel to do this. The best way to get the attention of a street hustler is to give them food, after this is then that you can do anything with them including talking or asking any type of question. I am saying this from experience, I have done it before. Now the game plan is: all the members of the society including voluntary students go out to their residence mates and ask for old clothes and food, which are then collected and given to these people living in the streets only close to the university, namely Rondebosch, Mowbray, Station Road and Observatory.
"Everybody feel free to join and help. UCT is us and ultimately we are the ones who have to change our university if we want some change so let us join hands and make this happen together."
For more information call Azwihangwisi Joe Netshikulwe on 083 941 4122.
Affirmative action symposium
On October 18 and 19, an international gathering of higher education and judicial leaders, scholars, and analysts will examine the similarities, differences, and lessons to be learned about affirmative action. The symposium will be hosted by UCT and the University of Michigan, named defendant in the landmark US Supreme Court cases that set the landscape for race-sensitive admission policies in US higher education.
In the US, race-conscious affirmative action remains contested as a concept, if not as a matter of public policy. In South Africa, government faces the challenge of transforming a society ravaged by years of apartheid. President Thabo Mbeki has raised to the level of popular discourse the notion of a "two-economy" society. In its most generic form this notion speaks to a South African society wherein a disproportionate share of its population is excluded from the benefits that might be derived from the dominant forms of economic and social activity. UCT staff are invited to attend. For further information contact Royston Pillay on e-mail royston.pillay@uct.ac.za
Africa symposium
Professor Sizwe Satyo (African languages) will be a guest speaker at the first Awake the African Spirit symposium to be held at the African Studies gallery at 13h00 on Friday, September 30. The discussants are Nazeema Mohamed (transformation manager) and Siphiwe Hlongwane (new SRC president).
On October 6 the campaign, which was initiated by a group of international students to promote a visible expression of the diversity of the African continent at UCT, will be officially launched by deputy vice-chancellor Professor Thandabantu Nhlapo.
Campaign organiser Colins Imoh explains: The composition of the University of Cape Town is like any university situated in any part of the world, where the majority of the students are from the continent hosting the university. In this regard, the culture and the tradition of the host are quite evident in the institution. It acts as a marketing tool for students from other parts of the world who wish to share and partake in this culture. However, we have noticed with concern that there are not enough avenues to promote this concept, more specifically the issue of identifying UCT culturally as an African University."
For more information, please contact Imoh on 082 5045252 or by email on imohc@science.uct.ac.za..
Wellness Week
Have you diarised the forthcoming Wellness Week? No? Then circle October 12 to 14 (Wednesday to Friday) when a variety of health care providers will exhibit their services and wares in the Graduate School for Humanities quad from 11h00 to 15h00.
The focus at this event will fall on HIV/AIDS and staff will be encouraged to go for voluntary counselling and testing.
According to the latest Organisational Health Newsletter, 353 employees have taken part in the voluntary testing drive. This is 13.07% of the 2 700 active eligible employees. Fifteen employees are registered on the programme. (While we report on statistics, confidentiality is strictly maintained.)
Also on the bill are speakers like Brett Andersen, who is living with HIV. He will talk at lunchtime on Thursday. Andersen is leading a quilt-making project in Khayelitsha.
Body IQ and Discovery Health Vitality will be on hand to check your blood pressure and other basic health indicators.
Body stiff and tired? The popular massage and reflexology practitioners will be at the ready to work their magic, providing immediate stress relief.
---
This work is licensed under a Creative Commons Attribution-NoDerivatives 4.0 International License.
Please view the republishing articles page for more information.
---