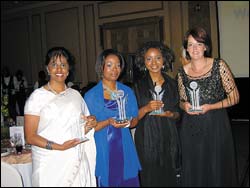 Distinguished company: (From left) Prof Anusuya Chinsamy-Turan, Zandile Mciza, Gloria Rembe and Dr Seanette Ann Wilson, completed UCT's suite of scientific achievers.
Four UCT researchers have been honoured by the Department of Science and Technology for their contributions to science.
UCT women fared well at the Department of Science and Technology (DST) Women in Science awards on August 12, winning four categories or fellowships in all. But it was zoology department's Professor Anusuya Chinsamy-Turan who won the jewel in the crown, the Distinguished Woman in Science (Contribution to Science) title.
Professor Vanessa Watson of the School of Architecture, Planning and Geomatics, won the title in 2003.
"I am deeply honoured by this recognition, and the acknowledgment of my contribution to science," Chinsamy-Turan said. "Thanks to DST I now also have a stunningly-crafted necklace (of the atom) designed especially by Mintek to commemorate the Year of Physics."
Recognised by the international scientific community as a world leader in fossil bone microstructure, the palaeobiologist is one of very few South Africans working on dinosaurs and one of a handful of scientists worldwide working in the area.
She works independently, which plays an important role in the advancement of the field, is innovative and sets high standards. Chinsamy-Turan has made an important contribution to understanding the nature and significance of fossil bone tissue in a variety of fossil vertebrates, notably among Mesozoic birds, non-avian dinosaurs and non-mammalian therapsids.
The researcher was one of 10 scientists chosen to contribute to the development of the new Dinosaur Hall at the Tokyo Science Museum in Japan. She was also invited to Japan to visit several institutions and to give a series of lectures and co-organised symposiums on dinosaur biology and the evolution and morphology of Mesozoic birds in Germany and Florida.
Dr Seanette Ann Wilson of the chemistry department won the 2005 L'Oreal Women in Science Fellowship. Wilson is an experienced researcher with extensive training in organic chemistry laboratory techniques, including the advanced synthesis of organic molecules on a small scale. After coming through the UCT chemistry department with honours, she embarked on a NRF-funded MSc project concerning the enatioselective total synthesis of bioactive natural product, Novobiocin. Following her PhD, she took up working on the enatioselective synthesis of the mannealkoloid Lepadiformin, with anti-cancer activity.
The Women in Science Fellowship: Gender Responsive Research category was won by Zandile Mciza, a full-time Medical Research Council (MRC) trainee, based at the MRC/UCT Research Unit for Exercise Science in the Department of Human Biology and a full-time doctoral student in the Nutrition and Dietics Unit.
Her research project is titled Instruments Measuring Dietary and Physical Activity Knowledge, Attitudes and Health Behaviors in Urban South African Women and their Daughters. She is the first South African to validate culturally-sensitive instruments measuring socio-cultural, environmental and familiar factors of obesity in women. With South Africa currently undergoing a nutritional and health transition, it is important that her research be completed so as to provide active interventions to change the current attitude of black South African women toward their health, physical activity and nutrition.
The fourth UCT winner was Gloria Rembe, a research assistant at the Lung Institute, and winner of the Da Vinci Award for postgraduate studies in technology management.
---
This work is licensed under a Creative Commons Attribution-NoDerivatives 4.0 International License.
Please view the republishing articles page for more information.
---