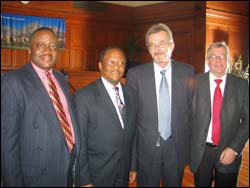 Coming together: (From left) Dr Vincent Maphai, CEO of BHP Billiton; vice-chancellor Prof Njabulo Ndebele; Adrian Crewe, PPP national programme director; and Prof John Bardill, director of UWC's School of Governance, were on hand to congratulate the students from UWC and UCT who received certificates at PPP's 5th Advanced Winter Institute graduation ceremony.
According to BHP Billiton CEO, Dr Vincent Maphai, the most effective guarantee of a stable and progressive development path for any country is a professional civil service with continuity, clear career development paths and high internal morale.
Maphai was speaking at the Public Policy Partnership's (PPP) 5th Advanced Winter Institute graduation ceremony, held at UCT on July 15.
Ten students from the Universities of Cape Town and the Western Cape received certificates for completing the second of two 21-day PPP winter programmes that they undertook in the winter vacations of their last two years as undergraduates.
"Alongside their mainstream university studies, these students are given intensive training by PPP in the core analytical, numeracy, ethical, team work and policy development skills required to transform them into policy practitioners who will be able to design, implement and monitor key delivery programmes in either government or the NGO sector," explained Lydia Dreyer, PPP national office manager.
After completing the first (honours) year of their degrees, PPP sends their students into a year-long, full-time work placement with government or an NGO to gain valuable experience of the institutional complexities and political realities of policy-making and service delivery.
"They then return to complete their master's, after which they are ready for the world of full-time public service work," said Dreyer. "PPP requires its fellows to work in the public sector for a minimum of four years as a 'pay back' for the investment it has put into their development."
PPP is a registered, not-for-profit company currently funded by the Andrew W Mellon Foundation and the Atlantic Philanthropies. Since 2000, it has handpicked students from the programme's partner universities - UCT, UWC and the University of KwaZulu-Natal.
The UCT students who received certificates at the ceremony were Sumaya Essop Sheik, Nokulunga Guma, Ross Harvey, Siphiwe Hlongwane and Msuthukazi Makiva.
---
This work is licensed under a Creative Commons Attribution-NoDerivatives 4.0 International License.
Please view the republishing articles page for more information.
---