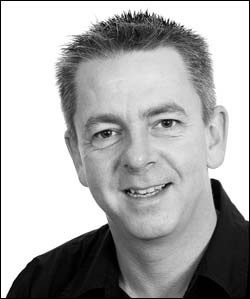 Stefan Lombard
After a successful 10-week season in Johannesburg, the international award-winning production Chicago - The Musical is set to get Cape Town audiences rocking to legendary tunes like All That Jazz.
And when the curtain rises and dancers, singers and musicians take their places on stage, UCT graduate Stefan Lombard will be among them.
As the production's assistant musical director, Lombard's main responsibility is performing the first piano part, and should the conductor be unable to perform his duties on the night, then Lombard will be required to step into his shoes (as happened recently in Johannesburg).
Over and above the performing side of things, Lombard sees to the cast's vocal warm-ups on a daily basis and the training of understudies.
Although his student days are now a distant memory (he graduated with a BMus in piano performing in 1988), Lombard says he continually draws on his UCT training.
"It's amazing how 20 years down the line I refer back to what I learned at UCT. The challenge of working on a production like this is to grasp stylistically what the original creators' intentions were. Chicago is set in the 1920s and I had to understand the musical style of that era. This is something I covered while at UCT."
Lombard was only 16 years old when he made his solo debut with the Capab orchestra, resulting in a personal invitation from the late Steven de Groote to study piano at the Arizona State University. At UCT, the pianist studied under Lamar Crowson and Laura Searle, and he went on to study at the Royal Northern College of Music in Manchester, England.
"I remember the music students at UCT spending every spare moment they had practising, because despite our academic demands, we still had the pressure of our piano recitals. But our classes were small and I appreciated the interpersonal contact we had with our lecturers."
For Lombard, the decision to study music was one made "with heart and gut" and his career achievements are testimony to his passion and job satisfaction.
Most recently, Lombard was the assistant musical director and alternate first keyboard player and conductor for the South African production of Phantom of the Opera. He was also the musical director for Cats, both in South Africa and countries such as Lebanon, China and South Korea, as well as Scandinavia.
His television credits include the first two series of Liriekeraai (Lyrics Board) and writing the music for the documentary Scorched Earth, which has been screened locally and abroad.
Asked about the highlight of his career, Lombard finds it difficult to limit it to just one memorable moment.
"One highlight has to be a performance at the Royal Festival Hall in London with the Divine Divas. But another is an open-air performance of Cats in Beirut. It was the production's first international stop and we were treated like royalty. We performed in the mountains of this unexplored country, which is in the process of being rebuilt, and it was a wonderful experience."
Chicago is on at Artscape until September 11 and features a 23-member, all-South African cast. Produced by Hazel Feldman, it stars Samantha Peo as Roxie Hart and Amra-Faye Wright as Velma Kelly. Drummond Marais plays lawyer Billy Flynn and Ilse Klink, better known as Vanessa from local soapie Isidingo, is Matron "Mama" Morton. Musical director, Bryan Schimmel, leads the 14-piece orchestra, which includes musicians from Cape Town.
Bookings can be made at Computicket outlets, on 083 915 8000 or online at www.computicket.com.
---
This work is licensed under a Creative Commons Attribution-NoDerivatives 4.0 International License.
Please view the republishing articles page for more information.
---