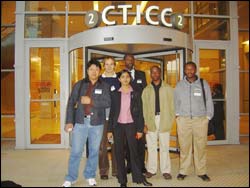 Electric-powered: UCT electrical engineering students who attended the 12th International Conference on Telecommunications (ICT 2005) are, back row from left, Zoran Basich and Emmanuel Falawo; and front from left, Dali Wei, Deeya Nursimloo, Eric Beda and Noah Ofentse.
Telecommunication needs addressed
UCT's Broadband Centre of Excellence seized the opportunity to play an important role in the 12th International Conference on Telecommunications (ICT 2005), hosted recently for the first time in Africa.
Held from May 4-6 at the Cape Town International Convention Centre, ICT 2005 covered broad and emerging technologies in telecommunications, high-speed networks and wireless communication. It also addressed the needs of telecommunications in developing countries.
Sponsored by King's College, London, and co-sponsored by the Institute of Electrical and Electronic Engineers (IEEE), the Institute of Electrical Engineers (IEE), the South African Institute of Electrical Engineers, Telkom and Vodacom, as well as the University of Pretoria, the conference was attended by 200 delegates from all over the world.
Academics and postgraduate students from UCT's Department of Electrical Engineering presented a total of 11 conference papers, a tutorial talk and a poster session at the conference. Some academics even participated in the organising committee as session moderators, session chairs and reviewers.
"This shows a significant presence and the quality of research undertaken in this field at UCT," said Professor Anthony Chan from the department.
Having established a student branch of the IEEE at UCT, 12 students were sent as volunteers to help with the running of the conference.
"In addition, the IEEE student branch invited eight international speakers who attended the conference to present seminars to our students at UCT before and after the conference," Chan added.
Nurses get to grips with haemophilia
Twenty-nine nurses, some from as far a field as Kenya, Botswana and Lesotho, made their way to Cape Town for the 4th haemophilia nurse training course. The nurses attended the 10-day course to learn how to identify and care for people with haemophilia.
The nurses were instructed by two facilitators from Gauteng, one from the Western Cape and Sister Jill Smith, a visiting lecturer from Perth. Invited guest lecturers included staff from Groote Schuur and the Red Cross Children's Hospital, as well as staff from the UCT Departments of Genetics, Physiotherapy and Occupational Therapy.
On June 3, the nurses visited Groote Schuur Hospital where they interviewed patients with haemophilia and received hands-on training from staff.
Awake the Spirit of Africa
The organisers of the Awake the Spirit of Africa campaign are urging students to take a look through their wardrobes when they go home for the winter vac so they can return to campus prepared to fully support the drive encouraging people to wear African dress on Fridays at UCT. The campaign, which was started by a group of international students, is intended to promote a visible expression of the diversity of the African continent.
So, come on folks, find those glad rags and bring them on.
Iziko Holiday Programmes
Iziko Museums of Cape Town is holding the following workshops for teachers and university students during the June/July holidays:
Taxidermy workshop for conservation students
Students will learn how to prepare a bird or small mammal for dissection, cut away and preserve the skin, clean the bones and mount the skeleton of their specimen.
Venue: SA Museum
Five full days, June 20-24
Time: 09h30-14h30
Cost: R 30.00
Please book by June 13
Taxidermy workshop for teachers
As above.
Venue: SA Museum
Five full days, June 27-July 1
Time: 09h30-14h30
Cost: R 30.00
Please book by June 20
Indigenous Knowledge Systems in Southern Africa
Gerald Klinghardt, who is a well-known anthropologist, will focus on various forms of indigenous knowledge, the technology behind some of the indigenous objects and a guided tour of the indigenous knowledge exhibition. The programme will be approximately three hours long. Participants will receive a teacher's guide, which includes classroom activities and worksheets.
Venue: SA Museum
July 5
Cost: R10.00
Explorations in Palaeontology
Dr Roger Smith will facilitate this programme at the West Coast Fossil Park - one of the richest fossil sites in the world where five-million-year-old fossils can be seen in situ. The programme will also discuss the origins of the Langebaan fossils.
Date: July 6
Time: from 10h00
Cost: R 10.00
Behind-the-scenes tour of a palaeontology lab
Dr Roger Smith will take you on a tour of his laboratory, which houses some of the oldest fossils in the world, some as old as 220 million years old. His technicians will demonstrate how they prepare fossils and will explain how fossils are used to discover South Africa's ancient history.
Venue: SA Museum
July 7
Cost: R 10.00
For more information or to book, please contact Julia Silberman on tel 481 3810, fax 481 3991.
---
This work is licensed under a Creative Commons Attribution-NoDerivatives 4.0 International License.
Please view the republishing articles page for more information.
---