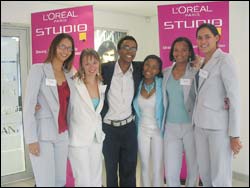 Hair-raising: UCT students Lynda Cooper, Dania Petrik, Langelihle Khanyile, Mokete Sekhesa, Nicole Zingu and Sarah-Jane Joshua at the L'Oreal Brandstorm competition in Johannesburg. Winners Cooper, Zingu and Joshua head to Paris soon for the international finals.
Lynda Cooper, Sarah-Jane Joshua and Nicole Zingu are the envy of their class.
The three final-year business science students in marketing have just won a working holiday in Paris, a city renowned for its whimsical fashion sense. And the UCT trio may have their own contribution to make.
Cooper, Joshua and Zingu will be in the French capital for the finale of L'Oreal Brandstorm, an international marketing competition for students, hosted by the cosmetics titan. Brandstorm attracts competitors from around the world, with more than 30 countries due at the crowning event in Paris. A holiday abroad is but one of the prizes up for grabs.
The UCT team - which goes by the name Sisonke - will be the first from South Africa to take part. The trio earned the honour after besting teams from Wits and Stellenbosch, as well as another from UCT, in the South African knockout round recently.
For the competition, teams first had to think up an original (and feasible) product to fit into L'Oreal's Studio Line range of hair products.
Shunning sticky gels, Sisonke came up with Climatize, a five-strong range of lotions that not only set the hair, but also protect it against the harsh elements.
"Climatize was sort of based on our own needs," says Zingu. "I think it's something people want and can actually use."
Teams also had to produce a full-on marketing and advertising campaign - including a detailed breakdown of its target market, product design and logos, and a sample of professionally-designed print ads (with the technical assistance of an ad agency hired by L'Oreal) - around their merchandise.
Finally there was the Johannesburg round of presentations, where each team had 20 minutes to make their pitch to L'Oreal executives.
"It was very nerve-wracking," recalls Cooper.
And after weeks of strain and long hours - they're honours students as well, remember - it was also emotional. Cooper kept her cool, but Joshua and Zingu burst into tears when they heard they'd won and would be heading to Paris in June.
"It was a dream come true," gushes Joshua.
That dream comes with some work, though. The team has to smooth out the wrinkles from its presentation, shoot a short television ad, and oversee the production of a sample Climatize bottle (no gel, though).
The team is exhausted, but also chuffed. Their lecturers took a hands-off approach - they wanted to see if the students would sink or swim - so the UCT teams pretty much had to stand on their own 12 feet.
"We feel very proud that we've done this on our own," says Cooper. "We worked so hard on this."
After all that, Paris - its armies of snooty fashionistas or not - will not seem so hairy.
---
This work is licensed under a Creative Commons Attribution-NoDerivatives 4.0 International License.
Please view the republishing articles page for more information.
---