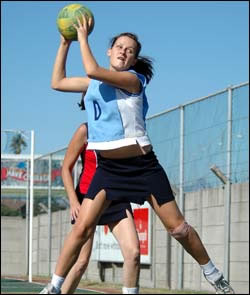 Izanè Serrao gave it her all, but couldn't help UCT beat Durbanville B.
Hockey (men): In "the battle of the ages", a raw UCT B - many players are fresh out of school - put up a valiant fight but lost 0-1 to a seasoned WP Cricket Club B. "For UCT B, it's a big learning curve," says coach Pierre le Roux. And in an unseasonably early clash between UCT A and WPCC A, respectively champions and close runners-up in 2004, the two sides tussled to a 2-2 draw. "To play each other this early in the season, it becomes a case of who makes the least mistakes," says Le Roux.
Hockey (women): Coach Charlie Stuart was right on the money when he said that teams are going to make UCT work for their points this season, and that he feared for his famously thinning hair. He lost a few more tufts on April 17 when UCT had to scrape for a 1-0 win over a game Gardens. A brilliantly-executed individual goal by Leshane Luscombe set UCT on the right track, but Gardens fought back and regularly came close to scoring.
Netball: Coach Louise Cameron is in no two minds about what her young team needs: "I will have to find a shooter that can keep up with the rest of the team." After first-choice Melanie de Beer tripped down some stairs, the side went into their game against Durbanville B with a makeshift line-up. Sadly, opportunity after opportunity went abegging as UCT lost 19-32.
Rugby: A confident win in their first season of the game promised so much for the FNB UCT team. But first there was a 15-49 (two tries to seven) trouncing at the hands of Helderberg on April 16, followed by an avoidable 15-17 defeat to Vics on April 20. "We're on a slippery slide," admits Spencer King, director of rugby at UCT.
Squash (women): In the first of what the side expects to be three hard-fought ties, UCT beat Camps Bay 3-1. As expected, the team's rivals have lifted their games as they vie for the title won by UCT last year. "All the matches were really close," reports captain Annie Aling.
Volleyball: In quick succession, the men's team has dispatched Drakenstein by 3-0 and Atlantis 3-1. With four wins in as many matches, the side is now seen as a serious contender for the WP title, says the club's Joachim Schuckmann. In turn, the women beat Regulators 3-2 but then lost to title-contenders SAP, and have now recorded two wins and two losses for the season.
---
This work is licensed under a Creative Commons Attribution-NoDerivatives 4.0 International License.
Please view the republishing articles page for more information.
---