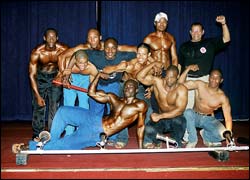 Sweat and oil: (From left, back) Mondli Dube (1st welterweight), George Haoseb (2nd middleweight), Linda Kumalo, Sisikelo Biyela, Jackson Marakalala (3rd bantam weight), Temba Mabasa and team manager, Jeffery Johnstone. (Front, from left) Sadiq Abubaka (best poser overall, 1st middleweight), Musa Nkukwana (2nd heavyweight) and Seke.
They call Jeffery Johnstone Mighty Mouse. The story goes back to 1983 ("I was a lot younger then"), when, tipping the scales at a trifling 60 kg, he lifted three times his body weight. He's an inspiring example to the UCT body builders who lifted the trophy at the South African Students Sports Union (Sassu) bodybuilding tournament at the Vaal University of Technology.
Logging 43 points, three clear of rivals the Durban Institute of Technology, the UCT men were clear winners of the overall team performance title, for the second consecutive year.
Taking the team north and to a second success was a rare treat for the coach.
"Eight weeks before the tournament, they begin the process of moulding and shaping, fine-tuning their bodies," Johnstone explains.
Competing at this level, these washboard-torsoed men are expected to trim their body fat to between 3% and 4%, achieved by the right combination of diet (protein, more protein and carbohydrate) and aerobic training.
Cajoling and exhorting, he pushes his men to "clinch and tense" through a sequence of poses (seven in all). The best known is probably the side chest pose: grip your opposite wrist menacingly, bend your knee coquettishly, push out your chest and - clinch!
He has nothing but praise for the muscle-bound UCT men he accompanied to the tournament.
"They were true gentlemen," Johnstone says.
Gentlemen who prefer dumb bells?
---
This work is licensed under a Creative Commons Attribution-NoDerivatives 4.0 International License.
Please view the republishing articles page for more information.
---