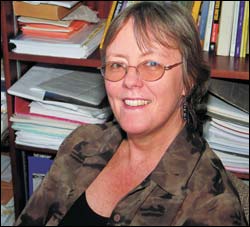 Prof Paula Ensor will serve another term as Dean of Humanities.
Faculties set to get new deans
Dean of Humanities, Professor Paula Ensor, is to serve a second term, but several other deanships are set to change in the near future.
UCT Council, following a recommendation from the faculty, agreed to renew Ensor's deanship when it expires at the end of this year. She will serve an additional five-year term until 2010. Ensor, who started her academic career as an economist, has a PhD from the University of London in the field of mathematics education. She has been at UCT since 1993.
At the same Council meeting, Associate Professor Gonda Perez was confirmed as Interim Dean of Health Sciences until a permanent appointment is made. A search and selection committee for the vacant deanship has been constituted in terms of university rules.
In addition, Professor Hugh Corder, Dean of Law, and Professor Daya Reddy, Dean of Science, have indicated that they will not be available for another term. Corder will vacate his deanship on July 1, 2006 (the end of his second term as dean), while Reddy has indicated he will vacate his deanship at the end of the year.
Deans are appointed for a term of five to eight years after a thorough search and selection process, which includes a faculty board ballot to probe confidence in the candidates.
In appointing deans, the university looks for individuals who are scholars of note with credibility among their academic peers; who offer academic leadership in the faculty; who are able to plan effectively and able to inspire and innovate; who have a strategic vision for the faculty and its role within the institution and proven management skills. In addition, UCT's employment equity policy applies very importantly at the level of deanships.
UCT audit on the cards
A 233-page self-evaluation report on UCT has been submitted to the Higher Education Quality Committee (HEQC) in anticipation of one of the first institutional audits to be conducted at a public university. The audit will culminate in a visit of an external panel from May 16 - 20 this year. The panel will spend a week on campus interviewing role players about various aspects of the report, prepared after extensive consultation across the campus. It covers all aspects of the university's business, ranging from the management of teaching and learning to research and community engagement. The final UCT document was signed off at the last Council meeting on March 2. The full report will be accessible on the intranet, and all heads of department will receive hard copies.
Hat trick for VC
UCT has become a member of a new Southern African Regional Universities Association (Sarua). Vice-Chancellor Professor Njabulo Ndebele was elected the first chair of the new association, which has been formed to deal with SADC regional issues. Ndebele is also currently the chair of the South African University Vice-Chancellors' Association, and was also recently elected president of the Association of African Universities that met in South Africa for the first time when its annual conference was hosted by UCT in February.
---
This work is licensed under a Creative Commons Attribution-NoDerivatives 4.0 International License.
Please view the republishing articles page for more information.
---