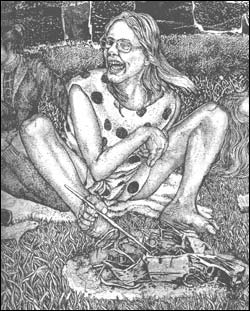 One of the artworks by Gabriel Clark-Brown.
Vice-Chancellor Prof Njabulo Ndebele has launched a transformation seminar series to examine the way in which disability, gender, race and Africa are addressed in the curriculum at UCT.
An art exhibition focusing on disability and sexuality provided an unexpected curtain raiser for the topics to be addressed in a series of transformation seminars chaired by vice-chancellor Prof Njabulo Ndebele.
The exhibition, on display outside the Senate room in Bremner Building, proved to be too shocking for at least one viewer who defaced two unframed works with a pen. It features images of nudity, religious symbolism and disability.
The artist, alumnus Gabriel Clark-Brown, won the 1995 UNESCO International Disability Artist Educational Award in Paris.
At the launch of the series, Ndebele said the defacing of the works of art was "totally unacceptable, particularly in the context of a university which upholds the value of freedom of expression, professes tolerance and believes that controversial issues be discussed and debated".
Deputy Vice-Chancellor Prof Martin Hall said the violation focused the mind on the issues to be discussed in the seminar series. People who had initially been upset by the art works themselves were far more scandalised by their violation within a university environment.
Ndebele said the intention of the first in the series of three seminars was to challenge participants to think more deeply around "notions of ability and disability".
"This transformation seminar and others in the series will attempt to review areas of social justice and equity, and how these are being thought of at the university."
The focus would be on curriculum design and whether UCT had the appropriate theoretical and practical training for dealing with social justice and equity concerns.
Other speakers at the first session included the artist Clark-Brown, who spoke on disability and representation, architect Phillip Thompson, whose topic was "universal design and access", and Mike Watermeyer, director of UCT's Disability Unit, who made a joint presentation on lessons and questions for curriculum development.
Gabriel Clark-Brown will do a walk-about on Thursday, 10 March 2005 from 12h30-13h30.
---
This work is licensed under a Creative Commons Attribution-NoDerivatives 4.0 International License.
Please view the republishing articles page for more information.
---