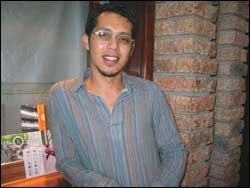 Ashraf Johaardien.
South African writers are burning up the broadband.
In early October, Nelson Mandela with a hand-written note officially opened Young Voices - the 2004 South African Online Writers' Conference, heralding the start to eight weeks of "virtual" discussion and debate on LitNet, an online cultural and literary journal (www.litnet.co.za). Offered in association with UCT's School of Languages and Literatures and its Centre for Creative Writing, Young Voices, first run in 2000, will see writers, publishers and editors from across the country posting "virtual papers" on the LitNet site. Visitors can give feedback almost immediately through letters.
The writers will cover topics on South African life - heritage, emigration, xenophobia, history, identity - and on writing, publishing, performing and reading. Contributors will include a score of young UCT graduates, such as Jaco Botha, Izak de Vries, Ashraf Johaardien, Henrietta Rose-Innes and Mary Watson, all published authors/playwrights. Only writers under the age of 35 will take part in the conference. "The voice of the new generation will be heard," promises Professor Etienne van Heerden, conference chair and the founder-editor of LitNet.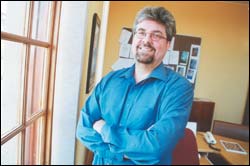 Prof Etienne van Heerden.
Over October, the conference amped up traffic on the LitNet site to some 49 000. Close on half a million pages were downloaded over the month. This is the handiwork of "unique users", not just casual hits, Van Heerden pointed out. October has already trumped the numbers from the 2000 conference, when around 277 000 pages were downloaded per month.
As with the website, Young Voices aims to be a polyglot affair, says Van Heerden. Papers will be delivered in no less than six SA languages, although all proceedings will also be available in English.

Nelson Mandela's message that launched the conference.
"South African languages and literatures often operate in separate spheres," says Van Heerden. "Critics, teachers, readers and writers from the respective languages write, read and teach within their particular systems. Often writers, critics and readers from a particular language meet to discuss cultural issues, but mostly to the exclusion of authors in other languages."
The need for an inclusive writers' conference, where all the best young talents in South Africa get to have their say in all of the country's languages, has often been touted, he adds.
"The web offers a cost-effective way of celebrating culture and stimulating vigorous debate. Moreover, conference proceedings are open to interested parties worldwide, and not limited to the brick-and-mortar confines of a conference hall in the real world."
The conference will run until the middle of December.
---
This work is licensed under a Creative Commons Attribution-NoDerivatives 4.0 International License.
Please view the republishing articles page for more information.
---