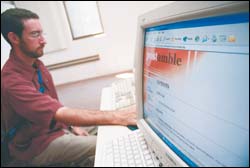 New spaces: Postgraduate students in the Faculty of Humanities now have an online journal of their own.
Short of funding and opportunities to publish their works, humanities postgraduates are turning to cyberspace.
Recently, editors Noëleen Murray (a PhD student), Daniel Steyn and Kim Wildman (both master's students), along with managing editor Monique Whitaker, all from the Centre for African Studies (CAS), launched postamble, a new online journal in the Faculty of Humanities. The site, which can be found at www.africanstudies.uct.ac.za/postamble/, will showcase the peer-reviewed works - both scholarly and otherwise - of postgraduates in the faculty. It's an initiative designed to get postgraduates to share their ideas and output, says Murray. "We see this as a very serious space for the exchange of intellectual ideas among postgraduates."
Wildman, who, like Steyn, is registered for the centre's postgraduate programme in Public Culture in Africa, concurs. "We want to provide a space for postgraduate students to show the world what they're able to do," she says. "There are not that many opportunities available for postgraduate students to get their works published."
The editors were largely driven to the Internet as a way to reach a wider audience than they could possibly with a printed version, and partly by the lack of money, notes Wildman. "Because we had to start this whole thing without funding, going online made it so much easier." Whatever their reasons, that may not have been such a bad move on the editors' part. As students may wish to express themselves in a raft of formats and styles, postamble hopes to make good use of its online space. The editors are looking for all manner of contributions, be it creative writing, visual/photographic essays (five of the seven contributors to the first edition have accompanying images for their essays), or even works in digital, film and sound formats. "We're going to explore everything," notes Wildman.
While the focus will be on the study of Africa, postamble will feature the work of students and scholars from all disciplines. The CAS is merely a convenient launchpad and host for the site, says Dr Nick Shepherd, acting director of the centre. "This is a very important development for the Faculty of Humanities in general. There has been a lot of talk over a long period of time in the faculty on how to foster and develop a postgraduate student culture. This is a very important step towards that."
Over the next months leading to the second edition, due in June 2005, the postamble founders hope to not only draw many readers and new contributors, but also the next generation of editors. "I hope that lots of people will submit articles and that we get a good response," says Wildman, "so we can keep it going."
Postamble can also be accessed via the CAS site at www.africanstudies.uct.ac.za.
---
This work is licensed under a Creative Commons Attribution-NoDerivatives 4.0 International License.
Please view the republishing articles page for more information.
---