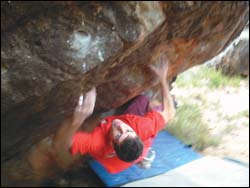 Going up in the world: Steve Bradshaw negotiates up a boulder.
Steve Bradshaw (22) has become the first UCT student to obtain full colours for bouldering, awarded at the UCT Sports Awards Dinner in October, this after becoming only the fourth South African to boulder the sport's pinnacle challenge, called 8b.
This year Bradshaw has focused almost exclusively on bouldering, completing a number of well known boulder problems including Ard Ay, a problem situated in the Silvermine Nature Reserve.
"Ard Ay was first climbed by visiting British climber, Jerry Moffat, who graded the problem 8b, the hardest grade climbed by a South African, and not far off the top grade internationally," Bradshaw explains. "Only three other South African climbers have succeeded on 8b problems."
He managed to complete Ard Ay after six days of trying, spread out over two months. The award for UCT bouldering colours was created this year to cater for the growing prominence of the sport at UCT, Bradshaw says.
"Bouldering has exploded in popularity in South Africa over the past 10 years and now forms a large part of the UCT Mountain and Ski club (MSC)."
The sport involves climbing what are known as (boulder) problems up free-standing boulders, usually between 3m and 5m high. Unlike climbers, boulderers don't use ropes, rather placing a "pad" at the base of the climb to prevent (lessen!) injury.
"Bouldering is considered more intense than other forms of climbing, with the focus being on extreme difficulty," he adds. "Most top international climbers now spend a good deal of their time bouldering to build upper-body strength. South Africa, and in particular Cape Town, has some of the best bouldering in the world and has become a central location for boulderers worldwide."
Bradshaw, a finance master's student, has been rock-climbing for eight years and has received UCT full colours for sport-climbing on three occasions. He's not alone in his passion for bouldering; there are a number of strong up-and-coming boulderers at UCT. Emile Esterhuisen and Marijus Smigelkis are two to watch out for in the near future. The MSC recently held a closely contested seven-week bouldering league at the UCT wall. Clinton Martinengo, another 8b boulderer, managed to grab hold of first place, with Marijus Smigelkis, (UCT) and Bradshaw both close on his heels.
(Anyone interested in trying out either bouldering or rock-climbing should contact the UCT mountain and Ski club via their website, www.mountain.uct.ac.za/.)
---
This work is licensed under a Creative Commons Attribution-NoDerivatives 4.0 International License.
Please view the republishing articles page for more information.
---