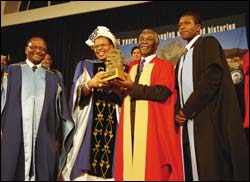 African leaders: President Thabo Mbeki receives a bronze casting of a Lydenburg head from the chancellor, Graça Machel and SRC president Nqobizitha Mlilo (right). The vice-chancellor, Prof Njabulo Ndebele is on the left. (The wax copy of the head was modelled by UCT alumnus and sculptor David Brown, who is also represented in UCT's collection, notably as part of the Porer loan to the university. His large sculptural work, Thomas and the Boneyard, is exhibited in the Leslie Building.)
Jameson Hall came alive for a very important guest last Thursday when President Thabo Mbeki visited UCT to collect an award and deliver the distinguished inaugural lecture of the Association of Commonwealth Universities.
The evening was the highlight of UCT's 175th anniversary year. The president is the first recipient of the UCT Chancellor's Award for Outstanding Leadership in Africa, which is set to become an annual event.
On hand to present the award, represented by a brass replica of a Lydenburg head, were Chancellor Graça Machel and the newly-elected SRC president Nqobizitha Mlilo. The event was attended by top political and civic leaders, ambassadors and business people as well as UCT staff and representatives. It was Mbeki's first official visit to UCT.
The celebration, under the banner of UCT in Africa, was extended to include a live broadcast on SABC Africa, and a special broadcast on SABC 2's Morning Live breakfast show on Friday - including interviews with vice-chancellor Professor Njabulo Ndebele, deputy vice-chancellor Professor Martin West, Professor Angelo Gobbato (South African College of Music), and student and rugby star Sakekile Gqeba. (One of the Morning Live team was UCT alumnus Lydia Plaatjies.)
Capped by a formal African dinner in the Leslie Building, the evening was a fitting culmination to a year of multiple 175 anniversary celebrations and reflections, the award to Mbeki symbolic of UCT's commitment to Africa.
Also announced at the event were the Mandela Rhodes Foundation Thabo Mbeki Leadership Scholarships. These scholarships, a partnership project between UCT and the Mandela Rhodes Foundation, will be available to young and talented graduands from any country in Africa, allowing them to pursue postgraduate study at UCT.
It is envisaged that these scholars will form a vital leadership cadre in southern Africa and, more broadly, on the African continent by bringing together Nelson Mandela's legacy of leadership, the exceptional educational tradition of excellence embodied by the Rhodes Scholarships, and Mbeki's renewed vision of African development and prosperity.
In his citation, the VC said the award paid tribute to the lifelong pioneering role Mbeki had played in the struggle against apartheid and his inspiring example of disciplined study and hard work under challenging circumstances.
"You have done us proud in your role as an international statesman, winning the respect of international politicians and business people for South Africa on your visits abroad, even though you've never shied away from addressing challenging issues around the disparity in trade and other relations between the developed and underdeveloped nations."
Ndebele hailed Mbeki for his farsighted vision of an African Renaissance, and for ensuring that South Africa's stability was inextricably linked with that of the African continent.
"Your pride in being an African and honouring your African roots has been an example to us all. You are constantly urging all of us as Africans to cherish and honour what is valuable about our cultures, traditions and languages and not to allow these to be swamped by international communication systems."
These sentiments were echoed by the chancellor. "We have to continue to strengthen our relationships in Africa," Machel said. "I believe that UCT should aspire to be best at what we are in Africa, rather than aspire to be a replica of successful institutions elsewhere. The universality of our impact lies precisely there. Our confidence as an institution with a global profile is increasing steadily. In this way, we are part of the story of South Africa's maturing democracy."
At the dinner afterwards Mbeki and the vice-chancellor unveiled a plaque commemorating UCT's 175th birthday, and proposed a toast to UCT and its students and staff.
Machel also paid tribute to the university's benefactors over the past 175 years, saying UCT had "reaped enormous benefit" from their generosity.
The chancellor also welcomed the Ackerman family and paid tribute to one of UCT's most distinguished alumni, Raymond Ackerman, who has pledged the first major special gift to the CC175 campaign, funding for the Raymond Ackerman Academy for Entrepreneurial Development.
Developed and managed by the Graduate School of Business's Centre for Innovation and Entrepreneurship, the academy will nurture talented entrepreneurs and promote the development of a spirit of entrepreneurship as a means to personal development and job creation in the South African context.
The academy's target group includes school leavers who will not be able to acquire a tertiary education, thus leaving school with limited skills to obtain employment, including potential self-employment.
Machel presented Raymond and Wendy Ackerman with a special certificate of recognition and acknowledgement for sustained, personal and philanthropic commitment to UCT.
"We are proud and honoured to acknowledge Mr Ackerman as a committed alumnus and friend, whose vision and passion are an inspiration to those who know him and an example to us all," Machel said.
---
This work is licensed under a Creative Commons Attribution-NoDerivatives 4.0 International License.
Please view the republishing articles page for more information.
---