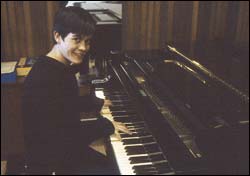 Hands up: James Baillieu is the winner of the first Laura Searle Prize, created in memory of one of the SACM's distinguished teachers.
After a week of written exams and just hours after writing a three-hour harmony exam, pianist James Baillieu's hands were cramping, his fingers stiff. Not ideal preparation for a pianist about to play Rachmaninov's Paganini Rhapsody in the Chisholm Recital Room. And certainly not with a prize at stake.
But the story has a happy ending; the final year music student plunged his hands in hot water to relax them before taking to the stage in the South African College of Music to win the prestigious prize, one of three finalists. This is the first time that the prize has been awarded in what is hoped will be an annual prize in Searle's memory.
A distinguished teacher, Searle died 2001 having established her reputation as a concert pianist. Many of the South African College of Music's big names trained under Searle; Associate Professor Francois du Toit and the school's director, Professor Franklin Larey.
Rachmaninov's pieces seem to bring good fortune for the final year music student. Last year he won the Rachmaninov Piano Competition at Stellenbosch University, this less than 10 years after an occupational therapist sat him down in front of a piano to improve his hand-eye coordination.
"The Rachmaninov Paganini Rhapsody was one of the pieces Searle played often," Baillieu said.
He will put the purse that comes with the prize towards his overseas fund; Baillieu hopes to study in New York or at the Royal Academy of Music in London.
His final solo recital in the Baxter will be on November 9 at 18h00 when he will play pieces by Scarlatti, Chopin and Ravel, the former technically very demanding. He is putting in six to eight hours' practice a day, doing technical work and memorising the pieces.
Baillieu's recital will last about an hour and admission is free.
---
This work is licensed under a Creative Commons Attribution-NoDerivatives 4.0 International License.
Please view the republishing articles page for more information.
---