World literature in the spotlight
On November 10 at 18h30 at the Centre for African Studies Gallery Professor Peter Hitchcock will look at renewed interest in the category of world literature (figures like Damrosch and Moretti) while raising some issues about what this means to postcolonialism, third-world literature and related categories. The main aim of the talk, titled World Literature Redux? On Politics of Cultural Transnationalism, will be to stimulate a discussion about whether the "world" in "world literature" is the "global" in "global capital" and what this means for a politics of cultural circulation. Hitchcock is a professor of literary and cultural studies at Baruch College and the graduate centre at the City University of New York. He is currently writing a book on the politics of literary form in transnationalism.
Exhibition explores mythological subject matter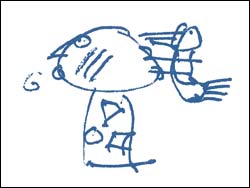 Professor Bruce Arnott will be exhibiting sculptures and drawings at the UCT Irma Stern Museum until November 6. The exhibition is titled Dreamtime: Signs and Portents, and comprises 35 small bronzes and 20 pen drawings in which the artist pursues his interest in mythological subject matter. Arnott says the exhibition reflects the icons and mythologems that have influenced his approach to the making of art. His ideas are expressed in a loose geometric shorthand and the idiosyncratic images are offered for aesthetic enjoyment.
What's on at the Baxter
The next performance in the 2004 Play>Ground season of play readings takes place on November 7 at 17h00 in the Sanlam Studio at the Baxter Theatre Centre. Ruth Levin directs Charles J Fourie's The Lighthouse Keeper's Wife, a story about human vulnerability and the tenacity of the human spirit. Tickets cost R15 and can be purchased from Computicket or are available at the door on the evening of the performance.
The End Is Naai is Pieter-Dirk Uys's latest acclaimed one-man satire, which celebrates 10 years of equality and human rights in South Africa. This pageant of political punches focuses on politicians and people, and aims to put the "mock" back into democracy and expose the "con" in reconciliation.
The show previews in the Main Theatre on November 1 and 2, opens on November 3 and runs until December 4. Bookings at Computicket or call Sharon on 680 3962.
Through a series of 15 ingenious sketches, Green Mamba takes audiences on a side-splitting journey through a day in the life of our weird and wonderful country. Starring Ben Voss and John van de Ruit, Green Mamba previews in the Sanlam Studio on November 1, opens on November 2 and runs until November 20. Bookings through Computicket or the Baxter box office on 680 3989.
Dutch studies bursaries and awards
The Van Ewijck Foundation has recently established an annual achievement award of R50 000 for a person or institution working within the goals set by the foundation. Striving to promote cultural connections between South Africa and the Netherlands, the foundation grants bursaries to students planning to study in the Netherlands and those studying at a South African university in a field linked to Dutch studies. Applications for a bursary or an award should be sent to The Secretary, Van Ewijck Foundation, Box 1658, Cape Town, 8000, before November 20. For further information please call tel 939 4009.
Civil society issues explored
The David and Elaine Potter Charitable Trust has established a fellowship programme for UCT students, which aims to support and encourage individuals to become leaders in an effective and democratic civil society in South Africa and on the African continent. The seminar programme, presented by the trust, is an integral part of the fellowship and each seminar will explore issues and ideas relevant to civil society in South Africa. They include: Cape Plants and Prosperity by Graham Rowe on November 11 from 09h00 to 17h30; Childhoods in Cape Town by Sue Moses on January 20/21, 2005, from 09h00 to 16h00; Yes! Dead Men Do Tell Tales by Jacqui Friedling on February 19 from 08h30 to 16h30; Urban Tenure Insecurity, Poverty and the Law by Trish Zweig on March 24/25 from 08h30 to 16h30; and ICTS and Development in South Africa: an Examination of the Role of Telecentres by Babalwa Cwane on March 30 from 11h00 to 15h00. For more information please e-mail gradcentre@uct.ac.za.
African languages/English translator
The United States Embassy in Pretoria is seeking an individual to fill the position of a translator/media monitor from Zulu, Xhosa, Shona or Ndebele into English. The person must be fluent in English and a South African citizen or a citizen of another country who has residency in South Africa and has the required work and/or residency permit for employment in South Africa. This is a full-time position (R121 558 per annual contract) located at the Foreign Broadcast Information Service office. For information on the detailed requirements of the position please contact Chris Jimmy or Kelly Jamison-Wilde on tel (012) 431 7675 or 431 7670 or e-mail chrisj@rccb.osis.gov or kellyj@rccb.osis.gov. The closing date for applications is November 5, 2004.
Chair of the Mellon Foundation visits UCT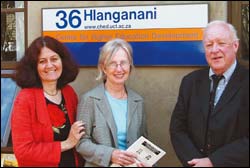 Anne Tatlock (above, middle), chairperson of the Andrew W Mellon Foundation, UCT's largest donor, visited the campus recently to meet staff working on projects supported by the foundation. These include the Multi-Media Education Group (soon to be replaced by the Centre for Educational Technology) in CHED, the employment equity initiative in the humanities faculty, the Bolus Herbarium (botany) and the digitisation of African cultural heritage sites (geomatics). Tatlock also toured the Baxter Theatre, had tea with the Mellon Mayes undergraduate fellows, attended an opera rehearsal at the College of Music, as well as rehearsals at the School of Dance. She also attended a lunch hosted by deputy vice-chancellors Professors Cheryl de la Rey and Martin West at Welgelegen. The visit was organised by the Department of Communication and Development, in consultation with former UCT vice-chancellor Dr Stuart Saunders, who is the Mellon Foundation's representative in South Africa. Pictured above with Tatlock are Laura Czerniewicz (left), director of the Multi Media Education Group, and Saunders.
---
This work is licensed under a Creative Commons Attribution-NoDerivatives 4.0 International License.
Please view the republishing articles page for more information.
---