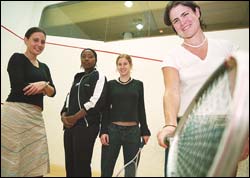 Women's squash team, from left, Annie Aling, Siyoli Lusaseni, Gina Robinson and Angela Bonora.
Students who have excelled in their sports fields over the past 12 months will be toasted at UCT's annual sports awards dinner, to be held this Saturday. The sport and recreation department has in the meantime released the names of the students and clubs who will be up for accolades. Here they are.
The candidates named for the Transformation Trophy, awarded to those clubs or individuals who have made strides in changing the membership profiles of their clubs or for reaching out to communities beyond UCT, are the volleyball, rowing and rugby clubs, as well as "JJ" de Castro Maia (capoeira) and Margot Scheffer (gymnastics) for their combined work to get UCT clubs involved with Shawco's development programmes in Manenberg.
Up for the Turpin Cup for service to UCT sport is Ramzi Solomon, chair of Sassu-UCT, and De Castro Maia, who is also an executive member of Sassu-UCT and out-going chair of the UCT capoeira society.
Nominated for the Butterworth Cup as team of the year are the women's squash first team, the men's water polo team and the men's hockey first team, who have all taken top honours in their respective Western Province leagues.
There will be tight competition for the Landstem Trophy awarded for the performance of the year. Vying are the rugby first team for their historic intervarsity win over Maties, the yachting team that excelled in the World Student Regatta in France, yachtsman Richard Tanner for his win in the South Star Double-Handed Cape Town to St Helena race, the men's fencing team that swept the trophies at the Sassu games, the men's side that won the Sassu water polo competition, and the men's hockey team who shared the honours at their Sassu event.
The Jamison Cup for UCT sportsperson of the year is also going to be a nailbiter, with six students nominated. They are Andrew Cronje, who made it into the SA senior and under-21 hockey squads; hockey's Liesel Dorothy, part of the SA team at the Athens Olympics; Gareth Samuel, who competed with the SA water polo team in Egypt in March and has been included in the team to make another trip there in October; Kimberly Schmidt, who has just returned with the SA water polo women from a successful tour to Sweden; South Star yachting champion Richard Tanner; and Jiajie Zheng, selected to the SA senior table tennis team.
Monday Paper will report on the sports awards dinner shortly.
---
This work is licensed under a Creative Commons Attribution-NoDerivatives 4.0 International License.
Please view the republishing articles page for more information.
---