Stellenbosch Music Festival
Top chamber musicians, symphonic concerts, rising stars from Cape Town, extraordinary young string players from Soweto, street festivals and community projects make up the 17th Stellenbosch Music Festival to be held from September 23 to October 2. Marking 17 years of ongoing music festivities and international recognition, this year's festival is dedicated to composer and pianist Huberte Rupert in recognition of her invaluable contribution to music. She is to be honoured with a specially-commissioned song cycle by Hendrik Hofmeyr based on selected poems by NP van Wyk Louw. The talent of promising young stars from UCT's opera school will be showcased. In addition, the UCT String Ensemble, under the baton of cellist Anmari van der Westhuizen, with soloists Kobie du Plessis (harp) and Srdjan Cuca (violin), will conclude the 2004 festival with works by Handel, Bach, Debussy and Vivaldi's Four Seasons. Telephonic, credit card and block bookings can be made on tel 883 3891 or e-mail wagnernd@lantic.net. Bookings for all concerts can also be made at the festival office, 29 Church Street, Stellenbosch. Visit www.stellenboschfestival.co.za for more detailed programme information.
Open day at Montebello
The Montebello Design Centre at 31 Newlands Avenue, Newlands, is having an open day on Saturday, October 2 from 10h00 to 15h00. Visit the busy craft and design centre, stroll under the oak and camphor trees and view the craft and design studios (jewellery, paper-making, ceramics, weaving, industrial design, African musical instruments, forge, alien vegetation furniture, recycled fabric project, print-making and nursery). Visitors can enjoy breakfast, lunch (booking essential) or light refreshments at The Gardeners Cottage restaurant. The craft shop will be open and crafters will be demonstrating their skills. For more information please phone 685 6445.
Health Science programme celebrates heritage
The Faculty of Health Sciences is celebrating 10 years of democracy with a varied programme from September 27 to October 1. Since September is heritage month, the theme is Exploring Our Heritage and Celebrating 10 Years of Democracy. The programme of events for the five days will take place around Conference Room 4 in the Barnard Fuller Building on medical campus from 12h30 to 14h00, except for September 27 when visiting academic Professor Khauser Khan from Aga Khan University, Karachi, Pakistan, will deliver the Van den Ende Memorial lecture, titled A Human Rights Framework - A Neglected Dimension of Primary Health Care (time to be advised). For further information and programme details contact Zetu Makamandela-Mguqulwa, Transformation Coordinator at the faculty, on tel 406 6633 or e-mail zmakaman@curie.uct.ac.za or visit http://www.health.uct.ac.za/transformation.
Bursaries available
Bursaries are available to undergraduate and postgraduate students who want to further their research career by studying the influence of the dynamics of invasive plants and animals in southern Africa. Made available by the DST Centre of Excellence for Invasive Biology (CIB) at the University of Stellenbosch, the bursaries are for all students who want to do research on the influence of invasive plants and animals on the biodiversity of South Africa, Marion Island or the rest of Africa. The bursaries range from R10 000 for final year undergraduates (BSc or BSc Agric), R12 000 for honours students and R33 000 per annum for two years for MSc students. Bursaries for doctoral students are worth R50 000 per annum (three years). Five postdoctoral positions are also open for work in the relevant research fields in collaboration with core team members from the CIB. These awards (R70 000 to R100 000 per annum) are for two years and can be held at any of the CIB core institutions. Specific bursaries are also available to historically disadvantaged students. Applications close on October 31 and November 30. For more information visit www.sun.ac.za/cib/bursaries2005.htm or contact Prof Chown at e-mail ag@sun.ac.za or tel 808 2385.
Education and IT click at conference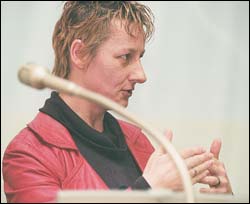 IT aficionados prised themselves away from their monitors to attend the 2004 Conference on Information Technology in Tertiary Education (Citte 2004), hosted at UCT at the start of September. The conference, held every second year under the auspices of the associated IT directors of higher education institutions in South Africa, provides a forum for scholars and technical specialists to share their thoughts on the use of IT to bolster the work of their institutions. At the gathering, delegates powwowed on the hurdles and opportunities of IT in the African higher education context. A number of UCT IT staffers took the floor, including Geoff Hoy (libraries) and, above, Vicki Scholtz (humanities).
Shawco appeal
Shawco, the students' welfare organisation that reaches out to communities all around Cape Town, is making an appeal to UCT departments to forward old printer cartridges, of all makes, to the organisation. Enviro Green Technologies, who collects cartridges and then sells them to overseas recyclers, has agreed to buy these from Shawco. The organisation also needs wool, fabric and basic woodworking tools for use by the elderly and the disabled at the Shawco clubs. Offcuts of wood, saws, sanding paper, brushes, paint and varnish would also be appreciated. For information on how to get these items to Shawco, please call Anna du Bois at 406 6745 or drop her an e-mail at adubois@cormack.uct.ac.za.
South Africans among continent's best
A South African team of grade 10 to 12 school learners took third place at the 14th Pan-African Mathematics Olympiad (PAMO), held in Tunis, Tunisia, at the end of August. The SA team - Divya Babu, Ralf Kistner, Yumna Moosa and Lindsay Hans - won two silver and two bronze medals. Repeating their performance at the four previous events, South Africa again boasted the top girl at the competition, Babu taking seventh spot. The SA side finished third behind local favourites Tunisia and powerhouse Benin, who ended as runners-up for the fifth consecutive year. Over the two-day event, students tackled problems set by a jury of mathematicians from competing nations and International Mathematics Olympiad experts from Sweden, Luxembourg and the United States. UCT postgraduate student David Hatton was awarded a bronze medal as team leader for the SA competitors. Another postgrad, Bradley Preston, a former IMO team member, served as deputy leader. PAMO drew a record 40 students from 11 countries this year.
---
This work is licensed under a Creative Commons Attribution-NoDerivatives 4.0 International License.
Please view the republishing articles page for more information.
---