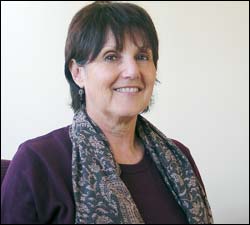 Dr Lydia Abel
A passion for education backed up by the relevant knowledge and skills to make things happen, has ensured the Schools Development Unit (SDU) has survived and thrived during a turbulent period in South Africa's education landscape.
Since its inception five years ago, the SDU has continued to play a vital role in building bridges between the academic world and schools, one that taps into the expertise of academics through co-teaching and co-conceptualising a range of accredited and non-accredited courses, and through the joint development of learning material.
Having grown out of the long-standing work of the Mathematics Education Project, the Teaching and Learning Resources Centre and the Lifeskills Project, which have worked extensively in schools for the past thirteen years, the SDU has a dovecote of specialists who are well-established and well-recognised in the education field.
Operating in the unit's focus disciplines of mathematics, science, literacy and life skills, these specialist teams are active in national and provincial policy forums and members are deployed as field workers, researchers, writers and facilitators in a range of projects and ongoing programmes.
One of the unit's most successful projects is the development of a series of mathematics textbooks titled Maths for All, which tops the best-selling list each year.
"Working on our new material for HIV and AIDS education has been stimulating. It's your Move - a video training pack for the African American Institute - will be disseminated to five African countries. The Pulse CD and comic book is by far the most innovative approach to this thorny issue," said the unit's director, Dr Lydia Abel.
Abel said she hoped to find sufficient funding to complete this project to ensure its distribution to schools, where it belongs.
Previously based in the maintenance building on upper campus, the SDU is now proudly housed on the fifth level of the old chemical engineering building.
"We were very grateful when we were informed this building had become available. It was very squashed and noisy in the maintenance building. With the Centre for Higher Education Development (CHED) just downstairs and the science faculty alongside, it is wonderful to be closer to the UCT network."
Having reached a milestone of 10 years of democracy, Abel believes that a climate needs to be created nationally, which both facilitates and rewards knowledge acquisition in meaningful ways.
"Democracy demands knowledge and it is through working with educators, researchers and learners that we move forward, building a knowledge base through which we can come to understand the challenges and start testing solutions."
---
This work is licensed under a Creative Commons Attribution-NoDerivatives 4.0 International License.
Please view the republishing articles page for more information.
---