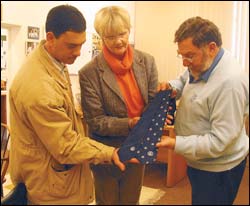 Neck and neck: (From left) Zaki Sallie, manager of Brain Books, Joan Tuff (health sciences alumni officer) and Prof Ralph Kirsch, chair of the Health Sciences Alumni Executive Committee, show off the latest in commemorative neckties, created to mark UCT's 175-year milestone.
It was Oscar Wilde who said: "A well-tied tie is the first serious step in life".
The necktie is one of those mysteriously enduring accessories that has withstood fads and fashions, enduring in various evolving forms since neck cloths (fascalia) were first worn by Roman orators to warm their vocal chords.
Today's version may not have much practical value (unless used as an ink blotter), but the neckwear is considered important by the sartorially aware. Those in this category will be delighted to know UCT has launched two special edition ties to mark our 175th anniversary.
Classic cuts (nothing too wide or too narrow), the first design features a pale blue stripe on a navy background with a white UCT 175 crest in the corner. The second is a repeated crest pattern, white on a navy background.
One of those for whom the tie has remained an enduring symbol commanding confidence is Professor Ralph Kirsch. This morning he is wearing an open-necked blue shirt. But when he steps out of his office to teach students or visit patients at Groote Schuur Hospital, the tie comes into its own, worn with the ubiquitous white coat. Both are stamps of authority in the medical corridors.
Kirsch remembers a survey done at Free State University in years gone by, where patients said they preferred the male doctors and those treating them, to wear neckties and the women to wear skirts.
So if you're scratching your head for a suitably branded UCT gift for visitors or benefactors (or even for your own collection), pop into Brain Books, Cissy Gool Plaza, on the upper campus and collect yours for R95. For more information, contact Zaki Sallie, tel 650 2485, e-mail zsallie@its.uct.ac.za, or Joan Tuff at health sciences on tel 406 6686.
---
This work is licensed under a Creative Commons Attribution-NoDerivatives 4.0 International License.
Please view the republishing articles page for more information.
---