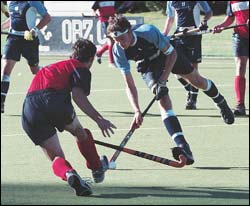 Up in the air: Rain saw to it that UCT didn't get to contest the final of the SASSU games, but earlier in the tournament players like Dave Portman, in action here against Tshwane University of Technology, helped UCT set the pace.
The men's team had a point to prove in the A section finals of the SASSU hockey games hosted at UCT.
The side, losing finalists in 2003, had seen off both the Tshwane University of Technology and the University of Pretoria by 5-0 in two of its round robin matches. Sandwiched between those victories, however, was a grating 1-4 defeat to Rand Afrikaans University (RAU). UCT had the upper hand for much of that contest, but failed to grab the goal-scoring chances that came their way. RAU didn't. While UCT could not convert a single of its 11 short corners into goals, RAU scored three times off its four corners.
"We really didn't deserve to lose that game," said coach Pierre le Roux.
UCT had a chance to set the record straight, though. After trouncing the University of Stellenbosch 5-0 in the semi-finals, the scene was set for a tantalising finale against RAU.
It was the rain that settled matters on the evening of July 3, however. The drizzle that soaked the UCT women in their B section final deteriorated into a full-blown deluge during the women's A section decider. The downpour drenched the Astroturf, and even running became a risky proposition. But it was only after two more Maties and North-West University players skidded head over heels into each other late in the second half of that game - at around seven-thirty that night - that the sides were called off the pitch. It was hoped that conditions above and underfoot would improve enough for both matches to go on, but the rain didn't let up. With no make-up day scheduled, officials decided that both the men and women sides would have to divvy up the honours, at least until 2005.
A pity, said Le Roux. "But on the day, the right two teams got into the final," he noted philosophically.
Both sides may feel they have a point to prove at next year's meet, however. Roll on 2005.
---
This work is licensed under a Creative Commons Attribution-NoDerivatives 4.0 International License.
Please view the republishing articles page for more information.
---