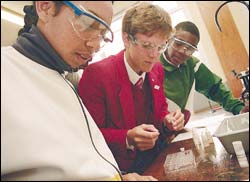 Knuckling down: (From left) Irma Maart from Rocklands High in Mitchell's Plain, Jevon Martin from Fish Hoek High and Luyanda Mgoqi from Uxolo High in Khayelitsha run through their experiment on acids and bases in the chemistry department, part of the recent Science Day.
Have your hearing tested
Students from UCT's Division of Communication Sciences and Disorders are looking for volunteers who wish to have their hearing evaluated. If you are interested in having your hearing tested, please contact Sharon Pithey on tel 404 5284/5 or e-mail spithey@pgwc.gov.za.
Learning the science ropes
Grade 11 school learners eyeing careers in science got a feel for the broad field at the science faculty's annual Science Day on June 29. Dr Dave Gammon, deputy dean in the faculty, got the ball rolling on the day with his talk on the value of a science degree and the prospects for graduates. Thereafter Assoc Prof Chris Gilmour, head of the maths department at UCT, lightened the mood with his tongue-in-cheek take on The Importance of Being Earnest - About Mathematics, a popular feature of Science Days over the past few years. Learners then got their hands dirty when they headed for labs in the earth sciences, chemistry, computer science and zoology departments for some fun and practical introductions to university science.
Antigone on at the Baxter
Modern politics: Multiple-award winning actor John Kani as Creon and UCT graduate Hanle Barnard as Antigone.
Sophocles' great Greek classic for modern times, Antigone, will be on at the Baxter Theatre until July 24. This new version by Sean Mathias and UCT alumnus Myer Taub was written especially for its South African début. Mathias directs an ensemble cast led by veteran and multiple-award winning actor John Kani as Creon and Hanlé Barnard as Antigone. An actress, writer, songwriter and singer, Barnard is also a UCT graduate and has worked in London, Toronto, New York, China and Australia for the last four years. The play was probably the first of Sophocles' three Theban plays and is generally regarded as his best work. Echoing through Western culture for more than two millennia, it has been produced in more countries and adapted to more political situations than any other play ever written. The play runs nightly at 20h00 with a matineé on Tuesday, July 20.
---
This work is licensed under a Creative Commons Attribution-NoDerivatives 4.0 International License.
Please view the republishing articles page for more information.
---