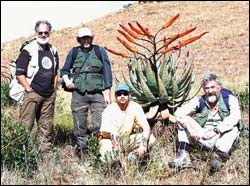 Origins of life: (From left) Professor Maarten de Wit, Harald Furnes, Neil Banerjee and Hubert Staudigel doing fieldwork in Barberton last year when the team collected samples from which the bacterial tubes were extracted.
In a collaborative project, a UCT geologist together with scientists from the United States, Norway and Canada have identified what is believed to be evidence of one of earth's earliest forms of life, a finding that could factor heavily in the discussions of the origins of life.
The team, which includes UCT's Professor Maarten de Wit, found microscopic life colonised in ancient volcanic lava nearly 3.5 billion years old, during a time known as the Archean, in the Barberton Greenstone Belt (about 360-km east of Johannesburg).
The findings are reported in the April 23 issue of the esteemed international journal Science. Other team members include Harald Furnes and Neil Banerjee of the University of Bergen, Norway; Karlis Muehlenbachs of the University of Alberta, Canada, and Hubert Staudigel of the Scripps Institution of Oceanography at the University of California, San Diego.
---
This work is licensed under a Creative Commons Attribution-NoDerivatives 4.0 International License.
Please view the republishing articles page for more information.
---