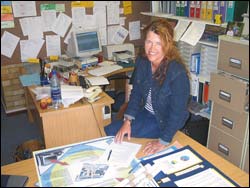 Clear articulation: Jane English is the convenor of the new Professional Communications Studies courses for engineering students.
Communication may well be regarded as a soft tool in the arsenal of business skills, but more and more professionals are seeing the benefits of bolstering their prowess in this vital area.
This is one of the main tasks of the Professional Communication Studies (PCS) unit, which has its home in the engineering faculty. It evolved from the former Professional Communication Unit (PCU) with a mission to ensure that the faculty's students are not only conversant with structure and load and the equations underlying these concepts, but also equipped to translate these ideas into projects, both at university and in the working world. So says the PCS's convenor and senior lecturer, Jane English.
Even engineering professional bodies hold good communication skills in high regard. And in an age of entrepreneurship, English believes that engineering graduates are finding work through self-motivated projects requiring sound communications skills.
"It's essential for graduates to have the confidence and skills required to initiate, manage and present research. They need to excel as entrepreneurs in both local and international markets."
Communications, she believes, underpins any graduate's skills in initiating, managing and presenting research.
"Professionals in the workplace need to be able to articulate clearly, both in written and oral presentations. These days, with electronic communication, messages travel in seconds. It's vital that they are correct as these communications live on as testimonies to the individual."
Though the unit is still young in the EBE faculty, English has enlisted the support of a team of highly-qualified part-time consultants: - Wendy Blyth, Sally Burt, Nella Freund, Jean-Pierre Kloppers, Jonathan Lambert-Porter and Catherine Steenkamp.
English has worked in the field for many years and has a PhD in progress at the Glasgow Caledonian University. Her dissertation examines the development of women in the workforce in the construction industry and is funded by the National Research Foundation. As a lecturer in the former PCU, housed in CHED, English has built on her teaching, consulting and writing experience.
She recently co-authored a new book in the field, Professional Communication: How to Deliver Effective Written and Spoken Messages.
English and her team will take students through the rigours of research methods using libraries, academic sources and Internet, the fiddly bits like referencing and citation, reports, proposals, letters, presentation skills and even posters, a communication skill all of its own - and a vital one at that, given the number of poster presentations that researchers' names are attached to. And, as the EBE students have shown in their efforts, these posters don't have to be dull or cryptic.
There has been a good response to the communications course from students, one, who described himself as "shaking and shy" before an oral presentation, lauded the value of rehearsals ahead of public speaking. Another has been able to put the skills to good use in other courses.
All of which contributes to well-rounded graduates.
---
This work is licensed under a Creative Commons Attribution-NoDerivatives 4.0 International License.
Please view the republishing articles page for more information.
---