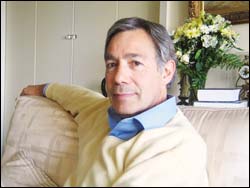 Claude Leon Foundation chairman William Frankel.
In an attempt to increase the volume and quality of research output, ensure the transfer of technical skills and generally enhance the research culture at South African universities and technikons, the Claude Leon Foundation makes awards to both South African and foreign postdoctoral students in the science, engineering and medical sciences fields.
UCT has been fortunate to benefit from the foundation's postdoctoral fellowship award programme (now in its sixth year), by receiving 29 of the 81 fellowships awarded to date.
According to the foundation's chairman, William Frankel OBE, the charitable trust has contributed approximately R50-million towards its endeavours over the past 20 years.
"As a South African-registered charity, all funding must be spent in the country. UCT has received about a quarter of all our funding."
The foundation is the result of a bequest by Claude Leon (1884 - 1972), who was a founder and managing director of the Elephant Trading Company, a wholesale business based in Johannesburg. Leon also helped develop several well-known South African companies, including Edgars, OK Bazaars and the mining house Anglo Transvaal (later Anglovaal).
For many years he served on the Council of the University of the Witwatersrand, which awarded him an honorary Doctorate of Law in 1971.
Frankel, who is passionate about education, is one of Leon's grandsons and an alumnus of UCT, having graduated with a BA in law.
He was politically active and exiled to the United Kingdom in 1964, where he joined a law firm and re-qualified as a lawyer. It was during this time that he was responsible for securing approximately £150-million worth of funding for the political trials taking place in South Africa.
"I have spent my life trying to improve the lives of those less well-off and I feel strongly that education is fundamental to upliftment.
"Housing and healthcare are important but unless people are educated we will never improve the lot of those lower down the rungs of society," said Frankel.
With his fellow trustees (one of whom is former UCT vice-chancellor Dr Stuart Saunders), Frankel is responsible for finding niche areas where the foundation's money can make a difference.
"It's wonderful," he quipped. "I get to sit around with a bunch of colleagues and decide how we are going to give away money. But the challenge is to ensure that the money is well-spent and to identify the right projects to support."
This, says Frankel, requires ongoing evaluation and a hands-on approach and it is for this reason that he has chosen trustees who have a finger on the pulse when it comes to funding. "This also demands that we meet with our students and their supervisors twice a year to keep in touch with them and find out how things are going. It is important that we stay focused and that if a particular project is not working we put our money somewhere else."
---
This work is licensed under a Creative Commons Attribution-NoDerivatives 4.0 International License.
Please view the republishing articles page for more information.
---