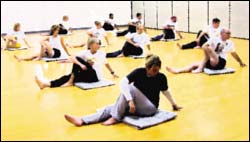 Feeling as if you're unravelling after a frenetic start to the semester? Too many white bread sandwiches and Cokes gobbled down between tuts and lectures? No exercise except swivelling your chair during faculty meetings?
Then pop down to UCT's second Wellness Week at the Graduate School of Humanities quad from March 31 to April 2 (11h00 to 15h00) to have yourself thoroughly checked over by a range of experts, all vying for your attention, thanks to human resources' organisational health team.
An earlier assessment of UCT's health profile by Discovery Health shows our chronic health problems range from stress to hyperlipidaemia (high cholesterol), ischaemic heart disease, asthma, menopause, hypertension and depression. Our wellness at work is thus of some concern to the university. The Wellness Week is intended to enhance our health, helping us cope with the demands of living in the campus's fast lanes.
And if you don't enjoy having your midriff tweaked by a fitness consultant bent on revealing the awful truth about your body fat-to-muscle ratio, there is something for those who prefer an alternative approach to wellness.
Organisational health manager Ottoline Clapham has lined up a group from the Complementary Therapy Practitioners, including aficionados of wholistic nutritional medicine, reflexology, aromatherapy, therapeutic massage, Indian head massage, Shiatsu and Jin Shin Do (or acupressure, using deep finger pressure on the body's acupoints).
Eye screening and testing facilities will again be available, booking with Clapham would be recommended.
Vitality members may also have a Body IQ assessment, conducted by a biokineticist, for R139. Please note that it won't help to trundle along for a massage or an assessment - booking for all the above is essential. To reserve a slot, please contact Ottoline Clapham at e-mail oclapham@bremner.uct.ac.za.
Recently DVC Professor Martin Hall urged UCT staffers to go for voluntary and confidential HIV testing, part of the university's Direct AIDS Intervention (DAI) programme. Available on campus during the Wellness Week, this is a highly accessible testing opportunity. Fifteen-minute appointments can be booked on e-mail at oclapham@bremner.uct.ac.za, or in consultation with the DAI co-ordinator at the event. It helps to know your status.
As a prelude to the Wellness Week, the Kramer Quad is hosting the Art of Living Festival from March 23 to 26, with classes (among a host of events) on African music, Tai chi, Pilates and Kundalini yoga, the above classes starting at 20h00. Festival class tickets may be booked through Computicket.
---
This work is licensed under a Creative Commons Attribution-NoDerivatives 4.0 International License.
Please view the republishing articles page for more information.
---