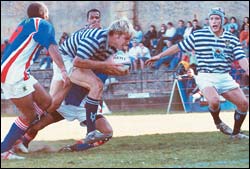 Try, try, try: Craig Kleu goes over for one of his tries in UCT's 38-13 win over Collegians.
The UCT Rugby Club's senior sides will not be too crestfallen with their final standings on the 2004 Western Province club rugby logs.
The FNB UCT First XV finished third in the Super League, a draw at Pniel-Villagers last Tuesday just denying them the runners-up spot behind the indomitable Stellenbosch. The second side won their game in Pniel by some margin, 43-19, but had to settle for second place in their league. And the Third XV retained their title after beating Pniel 31-7, in the end edging NTK out by just two points on the log.
Not quite a rampant season, but plenty to be pleased about, says Spencer King, rugby director at UCT. "We're absolutely thrilled with our results. At the senior level, the results have, across the board, been our best for a long time."
Spencer credits this upswing to these teams looking very closely at the talent among the club's younger outfits, sides that stood out again this season. "We're beginning to bear the fruits of our recruitment of under-20s over the past couple of years," he says.
That's done the first XV, renowned for upsetting the top sides before fizzling against the league's minnows, the world of good. They still won the big games - Maties in the intervarsity, Villagers twice - but this time around didn't drop too many points against the other sides. They even managed to give Collegians, in another ill-tempered affair involving the Mitchell's Plain side, a 38-13 hiding in their penultimate game.
"We've been a little more consistent than usual," says King. "But for one or two little slips, we could have come second."
That can be put down to new coach John Dobson and a very competitive front eight, he adds. "The biggest difference this year was that we had a pack of forwards who've been able to compete up front, so we've been able to win good first-phase possession and good lineout and scrum balls."
There have been other influences. Like the many former UCT players, such as first-team coach John Dobson, who are returning to campus to contribute to the club's future. Everyone wants to do their bit for the club, notes King.
That can only bode well for 2005.
---
This work is licensed under a Creative Commons Attribution-NoDerivatives 4.0 International License.
Please view the republishing articles page for more information.
---