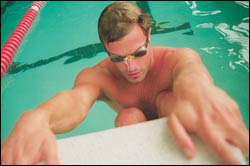 In the swim: Simon Thirsk, after winning five medals at the All Africa Games, now has his sights trained on the Olympic Games in Athens in 2004.
When Simon Thirsk returned to South Africa at the start of 2002 after nearly five-and-a-half years in the United States, he found himself stranded in a professional and sporting no-man's-land.
Firstly, with a pre-medical degree in exercise physiology from the University of Hawaii under the belt, he had planned - and been accepted - to register for an MBChB degree at UCT and, hopefully, leapfrog a couple of the course's initial years. That didn't quite pan out, however.
Also, his swimming career had ground to a rather devastating halt. All honed and shaved and rested for the 2000 Sydney Olympics where he was to represent South Africa, Thirsk suffered a shoulder injury that not only sidelined him for the event, but also, he thought, signalled the end of his competitive swimming hopes.
But how things have turned around for the 26-year old.
For one, he's now well into the second year of his BSc in property studies, offered by the Department of Construction Economics and Management, a new programme that he can't stop raving about. "I love the department and the people, and I really enjoy the degree, which is very practical and very dynamic."
And, barely eight months after giving the injured shoulder a trial run - specialists had suggested that a long rest may do it some good - the 100-metre backstroke specialist snagged all of five medals at the recent All Africa Games in Nigeria. Thirsk's haul comprised two individual silvers (for the 50- and 100-metre backstroke), two relay silvers (for the 4 x 100-metre medley and 4 x 100-metre freestyle) and a bronze for the 200-metre backstroke event.
He qualified for the event by finishing second at the national championships in March this year, just a month after hitting the water again. "I just sort of got in the water in February, and figured I'm at university, I might as well just damn well train.
"But after being selected for the All Africa Games, I thought to myself, hang on, I've done no work, I'm still second in South Africa, why not give it a bash."
This revival came as a pleasant surprise to Thirsk, and he's again seriously thinking of making it into the South African team heading for the Athens Olympics next year. "Only recently, in the last month or two, I've started a serious bid to get into the Olympics," he said.
"The biggest thing that I achieved at the All Africa Games was just regaining my drive, my enthusiasm, my commitment. I know what I want and where I want to go now."
And he believes that he still has a lot to offer the sport and his country. "I don't think I ever reached my best in the US
.
"At the [2000] Olympics, I was super fit, and I think I was in the best condition I had ever been in, but I was also injured. Now, I feel that I can get myself into a situation where I can beat and improve what I was [with a chuckle] as a youngster."
Whatever lies ahead over the next year, Thirsk's lecturers are certainly impressed with what he's achieved since his return to the country, both in the pool and in the classroom. "I think he had a very hard time when he came back, because all his friends had moved on and everything," said Kathy Evans, a senior lecturer in the Department of Construction Economics and Management.
"But he's done amazingly well."
---
This work is licensed under a Creative Commons Attribution-NoDerivatives 4.0 International License.
Please view the republishing articles page for more information.
---