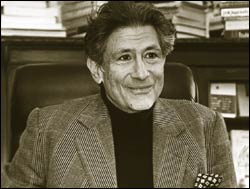 In memoriam: A special colloquium will be held on Thursday, October 9, to commemorate the life and work of the late Prof Edward Said.
In homage to the life and work of Columbia University's Professor Edward Said, the literary critic, writer and outspoken champion of Palestinian independence who died on September 25, UCT's Professor John Higgins and Dr Shamil Jeppie will host a commemorative colloquium this Thursday, October 9, in the Centre for African Studies gallery at 13h00.
Higgins and Jeppie - long-standing colleagues and friends of Said - will address the meeting with Somali novelist Nuruddin Farah. The colloquium will be chaired by Professor Robin Cohen, Dean of the Faculty of Humanities.
"Edward Said was one of the most influential intellectual figures of the late 20th century who constantly crossed and re-crossed the boundaries between politics and culture," said Higgins, who first met Said at a conference in Switzerland 20 years ago where, as a "cheeky young graduate student", he had presented a paper on Said's "mistaken understanding" of French philosopher Michel Foucault. "He responded with characteristic generosity and openness, and we were friends since then," reported Higgins.
Higgins had a hand in the Palestinian-born scholar's first visit to UCT in 1991 when Said delivered the university's academic freedom lecture. In turn, Jeppie set up Said's 2001 UCT stopover when the latter spoke on the troubled peace process in the Middle East.
In addition to the memorial gathering - Edward Said: In Memoriam - the CAS will also be screening videos on Said over lunchtimes for the entire week, starting on Monday, October 6. For more information, call Monique Whitaker at 650-2310.
---
This work is licensed under a Creative Commons Attribution-NoDerivatives 4.0 International License.
Please view the republishing articles page for more information.
---