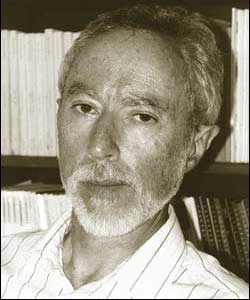 Nobel laureate Prof JM Coetzee
A renowned writer of lean prose, it is perhaps appropriate to describe Emeritus Professor JM Coetzee's 2004 Nobel Prize for Literature in just one word: triumph.
Tributes have poured into UCT following last week's news (the Swedish Academy made the announcement on Thursday, October 2) and the information and media office at the Department of Communication and Development has been flooded with media queries and well-wishers from all over the world.
The announcement of Coetzee's latest, and to date greatest, honour brings to three UCT's number of Nobel laureates, who also include the late Professor Allan Cormack and Sir Aaron Klug, whose research endeavours were in the fields of physics and chemistry, respectively.
Of Coetzee's unexpected victory (according to several overseas media, such as the BBC News, Coetzee was not tipped to win the laurels) Vice-Chancellor Professor Njabulo Ndebele said: "This prestigious award confirms Coetzee's sustained international acclaim as one of the finest writers of the twentieth century. We are proud to have shared in Coetzee's brilliant contribution to South African literature over many years. This is a proud moment for South Africa. The country of Coetzee's birth has now produced a second Nobel laureate for literature."
Nadine Gordimer won the Nobel Prize for literature in 1991.
A UCT graduate, Coetzee was first appointed to the university's staff in 1972 when he was appointed as a lecturer in the English Department. Between 1972 and 1983, he rose through the ranks from lecturer to senior lecturer and later became associate professor.
In 1984 Coetzee became Professor of General Literature and in 1994 became Arderne Professor in English. He was appointed Distinguished Professor in the Faculty of Humanities in 1999 and retired in January 2002, when he was also awarded Emeritus Professorship status.
Coetzee has a string of international literary awards, including the Booker McConnell Prize, which he won twice; in 1984 for The Life and Times of Michael K, and in 1999 for Disgrace. He was the first author to achieve this double honour.
It was during his years at UCT that Coetzee produced many of the works that propelled him to international fame: In the Heart of the Country appeared in 1977, Waiting for the Barbarians in 1980, Life and Times of Michael K in 1983, Dusklands in 1985, Foe in 1986; Age of Iron in 1990, The Master of Petersburg in 1994, Boyhood: Scenes from Provincial Life in 1997, and Disgrace in 1999.
Importantly, Coetzee was a major figure in the development of UCT's creative writing programmes and has contributed generously to the nurturing of South Africa's future authors.
Professor Stephen Watson, who heads UCT's Department of English Language and Literature, said: "He has been one of the great modernisers of South African literature, seeing many of South Africa's (and humanity's) dilemmas through a sensibility saturated in European authors from Dostoyevsky to Kafka."
Coetzee is attached to the University of Adelaide in Australia. He is currently spending a term at the University of Chicago in the United States.
(Postscript: The Department of Communication and Development is co-ordinating congratulatory messages to Coetzee. These should be forwarded to Andrea Weiss.)
---
This work is licensed under a Creative Commons Attribution-NoDerivatives 4.0 International License.
Please view the republishing articles page for more information.
---