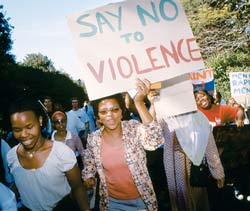 Onward, forward: UCT staff and students make their way to upper Campus during last week's Anti Gender-Violence March.
Turning up in numbers in front of Bremner Building last Wednesday, staff and students wound and chanted their way onto Upper Campus in support of the Anti Gender-Violence March convened by the UCT Gender Forum.
The Forum, instituted by the Students' Representative Council (SRC), called the march in the light of recent claims of rapes at the University. With the support of the VC's Office and Campus Protection Services (CPS), representatives from, among others, the Student HIV and AIDS Resistance Programme (SHARP), UCT Radio, the student newsletter Varsity, the Student Development Office, the Discrimination and Harassment Office (DISCHO), the Womyn's Movement, the Employees Union and the Academics' Association joined other staff and students for the trek up to Jammie Plaza.
Here, the marchers and the Jammie Steps' usual mid-afternoon assembly of students were addressed by SRC vice-president, Mbali Vilakazi. Vilakazi noted that violence against women is an act of dehumanisation, and an affront to their dignity and fundamental rights.
"Today we have gathered here to declare that as the University of Cape Town we care," she said. "United we stand - we speak not only to our Campus but to our nation as well, and say that all forms of discrimination and violence against women shall be tolerated no more."
Vilakazi also petitioned the University to, among other things, communicate crime statistics and to establish a 24-hour counselling service for victims of rape and other forms of violence against women. Critically, she also called on anyone who could assist with information on the recent alleged incidents of rape to speak out and inform the authorities.
This was a topic also broached by Vice-Chancellor, Professor Njabulo Ndebele, at the march.
"I have been deeply concerned about ongoing claims of incidents of rape on Campus, while simultaneously frustrated by a lack of factual information on alleged incidents," he noted.
"Rape is a serious crime indeed, and information about such crimes is critical in combating such incidents. I call on all to speak out against these crimes, to report it and to become part of a UCT community committed to indeed make an impact to decrease the level of gender violence in our society." He also reported that security arrangements on Campus were constantly being reviewed, and that the Discrimination and Harassment Office was in the process of establishing a counselling network for victims of sexual violence.
"UCT has a clear policy for dealing with cases of alleged rape and attempted rape, and is committed to taking appropriate disciplinary and/or administrative action where necessary," Ndebele added. "The involvement of students and staff can make an enormous difference.
"We need to act, not only when a tragic incident is brought to our attention, but also as an ongoing intervention to change attitudes and behaviour so that women may truly enjoy a safe and secure environment in which to study, work and live."
---
This work is licensed under a Creative Commons Attribution-NoDerivatives 4.0 International License.
Please view the republishing articles page for more information.
---