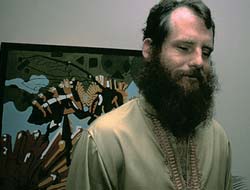 All creatures great and small: Shaun van der Vlugt with one of the paintings he donated to zoology.
The sparsely decorated reception area of the John Day Zoology Building on Upper Campus recently received a makeover with the addition of two large paintings by UCT alumnus, Shaun van der Vlugt. Van der Vlugt, a full-time artist who is on a mission to furnish zoology departments across the Western Cape with at least two of his paintings, recently handed over his work at a function hosted by the Zoology Department.
The Department, which is also celebrating its centenary, gladly accepted Van der Vlugt's work, which features insects and fynbos, two of his favourite subjects.
According to the artist his work is partly inspired by the lack of photographs of insects and a curious fascination with the creatures.
"I work from photographs but I believe the fable that the camera catches the soul, so when I work from pictures I have the soul in each life form to work from," he explained.
While explaining his work, Van der Vlugt admitted that, in addition to painting insects and fynbos, he would not mind photographing his subjects, but concedes that he neither has the equipment nor the income to support it. "And I hear it is a very taxing discipline; you need a macro lens and bright lights", he added wistfully.
But in the meantime his body of work is increasing. With a current estimate of 30 large canvases and several smaller pieces in his collection, he has several new pieces in the pipeline.
"It takes about a month for each painting. A lot of that time is spent planning. A lot of energy goes into painting but a lot more is spent planning."
A mechanical engineer by training, Van der Vlugt tried his hand at painting after years of encouragement by his family. In 2001 he was set to exhibit his work in New York on Broadway, but his plans were derailed by September 11, but he has no regrets. "In fact, it saved me from selling out."
---
This work is licensed under a Creative Commons Attribution-NoDerivatives 4.0 International License.
Please view the republishing articles page for more information.
---