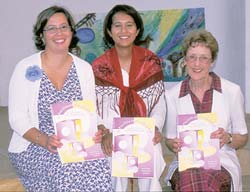 Book club: Karen Hermanus, Kashiefa Lagerdien and Ruth Watson have written a manual for facilitators who help parents of disabled children.
A UCT research project focusing on the development and sustainability of groups for parents of disabled children has resulted in a facilitator's manual that will be used to assist the growth of similar groups.
The National Research Foundation (NRF) funded the project, led by staff members based in the Department of Occupational Therapy, School of Health Sciences. DICAG (Disabled Children's Action Group) funded the production of the manual and will distribute it to other groups throughout the country.
The manual is based on the work and research done with two groups, Outlook from Ocean View and the Siyazama Craft Project from Masiphumelele, an informal settlement in the same area. It is intended to guide and enable the empowerment of community-based groups.
The three authors, Karen Hermanus, Kashiefa Lagerdien and Ruth Watson, said at the launch of the manual, that the project was very challenging, yet extremely rewarding.
"We were led through the group's full participation to enable development. The individual needs manifested by the participants were demanding at times and forced us to remain adaptable in our research approach," noted Watson.
"The project was a joint effort between the women and the occupational therapists and everyone benefited from the opportunity," she concluded.
Joyce la Guma, a mother of a disabled child, observed that her experience of belonging to one of the groups had been life changing. "It was wonderful to speak to others about my disabled child. They knew what it was like to face the community's negative attitudes.
"The most important thing that has happened is that both my child and I are happier than before. I look back and see that whereas my life was in the dark, I now have hope for the future," she concluded.
---
This work is licensed under a Creative Commons Attribution-NoDerivatives 4.0 International License.
Please view the republishing articles page for more information.
---