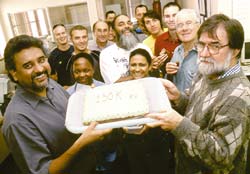 It's a piece of cake: Front, ICTS' Prags Naicker and Prof Tim Dunne of the Dept of Statistical Sciences lead the celebration of Helpdesk's 100 000th logged call.
When Dr Sebastiana Kalula, Head of the Division of Geriatric Medicine, dialled up Information and Communication Technology Services' IT Helpdesk on March 17 at 15h20 to have a network card installed in a new laptop, little did she know that she had in fact steered the service to a significant landmark.
Kalula's call happened to be the 100 000th to be officially logged on the Helpdesk database (HEAT) since its inception on September 6, 1999. The auspicious moment was noted by the observant Professor Tim Dunne, Head of the Department of Statistical Sciences, who thought the event deserved some commemoration.
Dunne had a couple of celebratory cakes prepared, which he duly shared with ICTS staff at the Helpdesk station in the Computer Science Building. This offered space for much reminiscing, with staff recalling requests for assistance with the installation of decoders, as well as the receipt of cryptic emails comprised only of a brief plea: "Help".
Monday Paper extends its congratulations and thanks to the Helpdesk for its kind succour over the past few years (and that M-Net picture, we must just add, is really sharp nowadays).
---
This work is licensed under a Creative Commons Attribution-NoDerivatives 4.0 International License.
Please view the republishing articles page for more information.
---