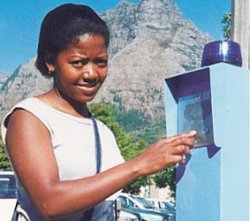 Play it safe: UCT has "safe walk" routes featuring blue SOS type beacons with emergency call buttons and intercoms (demonstrated here by Elizabeth Mampane), placed at regular intervals along the walkways and linked to Campus Protection Services at Burnage.
SOME of the banners that greeted the Campus community at the beginning of the academic year alerted students and staff to crime awareness and the importance UCT attaches to safety.
UCT is committed to a zero tolerance approach to crime. Nonetheless, the University is a microcosm of the larger community and continues to be affected by crime. Campus Protection Services (CPS) plays a vital role in the University's support services, enabling the institution to fulfil its core business of education.
CPS operate from six service centres, 24 hours a day, seven days a week. They are able to deal with practical and legal aspects of crime, such as first aid or what to do in the case of sexual assault.
"But in view of UCT's unique environment, a conventional security approach cannot secure the safety of the community and its assets," said Stuart Wragg, Gray Operations Manager (CPS). "We have adopted a multi-faceted approach, combining physical presence, technology and community awareness."
On Campus, the physical presence refers to a team of highly trained staff (in the distinctive black Gray Security uniforms) deployed across the Campus at the coalface of security. They man static posts such as surveillance centres and control rooms, but also patrol vulnerable areas.
This physical presence is backed up by technological aids in the form of alarms, access control and closed circuit television (CCTV), implemented in such a way that allows the security personnel to respond pro-actively to security situations.
For example, cameras are configured to aid surveillance and detection systems, rather than as a means of "establishing what happened after the fact". CCTV is used with access control and alarms to allow security officers to be at the right place at the right time.
"A common concern is the abuse of these systems," Wragg added. "It's thus crucial to ensure a buy-in from the Campus community by means of an awareness programme."
As UCT is a large community, everyone is encouraged to assist CPS by anticipating and recognising crimes or safety risks, and to call CPS to reduce or eliminate these.
---
This work is licensed under a Creative Commons Attribution-NoDerivatives 4.0 International License.
Please view the republishing articles page for more information.
---