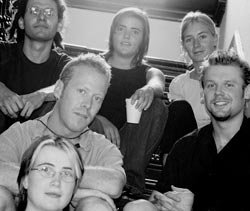 UCT's new crew: From left (back row) Chris Rodrigues, Jo Higgs and Nicole Schafer. (middle) Christian Hibbeler, Neil Shaw and (front) Vera Vukovic are the first group of students at UCT's new Institute for Film and New Media.
THE UCT Institute for Film and New Media welcomed its first group of students at this years' Orientation Week.
The six students will be part of the Institute's two new interconnected postgraduate programmes, the Masters of Fine Art (MFA) in Film and Television Production, offered by the Drama Department, and the Masters of Fine Art (MFA) in New Media, offered by Michaelis School of Fine Art.
The programmes each run over one intensive, extended academic year, and include 50% course work and 50% creative research and development work. To allow high quality contact education, only a limited number of students are admitted to each of the programmes.
Graduates from the programmes will emerge with a diverse range of expertise, enabling them to find employment as writers, directors and art directors in film and television, in post-production facilities, interaction design, animation, desktop publishing, web design, advertising, marketing and communications.
According to Carine Zaaman, lecturer at the Institute, the highlight of the students' Orientation Week was the launch of a new section of the Hiddingh Postgraduate Computer Laboratory, which was inducted by Professor Robin Cohen, Dean of the Faculty of Humanities.
---
This work is licensed under a Creative Commons Attribution-NoDerivatives 4.0 International License.
Please view the republishing articles page for more information.
---