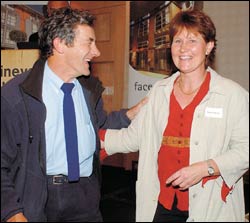 Alumni awards: Bernard Oberholzer was one of the two UCT architects honoured by the Institute of Landscape Architects of South Africa for their contributions to the profession. He was photographed with ILASA's Meg Anderson.
Revel Fox and Bernard (Bernie) Oberholzer, alumni from UCT's School of Architecture, Planning and Geomatics, have won awards from the Institute of Landscape Architects of South Africa (ILASA).
A long-term involvement with and the promotion of landscape architecture and the establishment of the master's course in landscape architecture at UCT earned Oberholzer a Fellow Membership Award. Fox won an Honorary Membership Award for his role in promoting an integrated approach to the design of urban landscapes and for encouraging the role of landscape architecture in the built environment.
The ILASA Merit Awards are held every two years in recognition of professional excellence in a range of categories within the landscape architecture profession.
This year Corobrik sponsored the accolades. Not only did the event showcase members' work, it also displayed work by students from UCT's Master of Landscape Architecture Programme as well as from the University of Pretoria's landscape course.
Oberholzer was commended by fellow landscape architect Johan van Papendorp. "Bernard is a longstanding member of the profession and has actively promoted landscape architecture in South Africa since his return from studying in America in the mid-1970s," he said. "He has worked in both the private and public sector. Landmark projects include the Greening of the City programme for the City Council and the V&A Waterfront development."
He said Oberholzer's teaching emphasised the importance of natural systems. "He adheres to Ian McHarg's environmental approach to landscape development and has been actively involved in challenging debates on the cultural landscape and environmental practice."
Fox was commended for his contributions to architecture through his practice, which had spanned more than 50 years, during which time he had worked closely with landscape architects. "Revel encouraged the development of the UCT landscape architecture course and, being a founder member of the Cape Town Heritage Trust, is an active player in the conservation of South Africa's built heritage," said Van Papendorp.
---
This work is licensed under a Creative Commons Attribution-NoDerivatives 4.0 International License.
Please view the republishing articles page for more information.
---