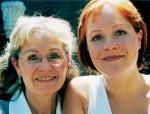 Learning the ropes with mom: Dr Azila Reisenberger (left) will be one of many proud parents celebrating graduation this year. Her daughter, Tali, will graduate with distinction and plans to continue her law studies with the hope of one day becoming a judge.
DR AZILA Reisenberger, Senior Lecturer in the UCT Hebrew and Jewish Studies Department, will be one of the few staff members who get to cap their offspring at graduation this year. Reisenberger's daughter, Tali, will receive her Bachelor of Arts in Law with distinction.
An elated Reisenberger has a library of interesting stories to tell about her daughter. Reisenberger was pregnant with Tali while she read for her BA degree and practically raised her daughter on campus.
"I would breast feed in class and when she was older I would send her to the library to return my books for me," she laughs. (Ironically she was pregnant each time she read for her first three degrees, all received with distinction.)
Reisenberger also lectured her daughter, whose second major is Hebrew Studies. Young Reisenberger says that experience added a new dimension to their relationship. We talked about things we would normally not have discussed, like poetry and literature."
"It is nice to study with your children," adds Reisenberger. "I was a lot harder on her when she was in my class because I did not want people to think she got special treatment. I am very proud of her achievements."
---
This work is licensed under a Creative Commons Attribution-NoDerivatives 4.0 International License.
Please view the republishing articles page for more information.
---