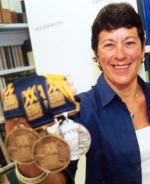 Master of the cycling universe: Penny Krohn with the two gold medals and one silver medal she won at the World Masters Games in Australia in October.
PENNY Krohn, librarian in the Department of Oceanography, proved once again that she is one of the best cyclists in her age group in the world when she won two gold medals and a silver at the 2002 World Masters Games held in Melbourne, Australia, from October 5 to 13.
Krohn, who turned 50 recently, won gold in the 20-km time trial and criterium events, as well as silver in the 33-km road race where she had to fend off three Australian challengers. She can now add this set of keepsakes to her collection of four golds she won at the 4th Masters Games in the United States in 1998, and, of course, the medals she's earned for winning each of her age categories – they've changed over the years – at the Cape Argus Tour for the past 18 years.
Krohn took part in her first Masters Games – "Olympics for the oldies," is how she describes it – in 1994, but, disappointed by the poor organisation of the cycling events in Australia, has decided to make this year's competition her last. The 2002 Games attracted 25 000 competitors from 97 countries battling it out in 29 sporting codes.
She's also getting a little tired of the hassles of competition and having, as she did again this year, to pay her own way, Krohn says. "I find I'm now competing against girls 30 years younger than I am."
But while she may retire from the Department of Oceanography after 16 years of service at the end of December, Krohn's not throwing in her handlebars just yet. She aims to extend her record-setting Argus run and complete 20 wins in her age group, which means she will have to get back into the saddle for at least another two years.
And competitive cycling, Krohn adds, has allowed her to meet people and see places she would not have done otherwise, having travelled to Australia (twice), the US, Austria and France on her cycling pursuits. "I've never been overseas without a bicycle," she points out.
She cycles because she loves it, Krohn enthuses about the sport she took up competitively a month before her first Argus Tour. "I love the freedom. "I'll go on cycling till I'm 70 if I can."
---
This work is licensed under a Creative Commons Attribution-NoDerivatives 4.0 International License.
Please view the republishing articles page for more information.
---