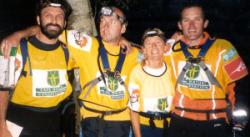 Team Energy: (From left) UCT's Jean-Paul van Belle, Trevor Ball, Caroline Brawner and Ugene Nel took top honours in the recent Eden Challenge (catch them on TV in Old Mutual's World of Endurance on November 15). Team Energy does not rest on its laurels. Recently Van Belle and Brawner won the open category of the world's first paddle orienteering event, the Polaris Paddle Challenge, at Theewaterskloof. Ball and Van Belle also won the open category of the first Real Cape Adventures Challenge, a new mountain bike/paddle/trail running/orienteering seriesd.
INFORMATION Systems' endurance athlete, Jean-Paul van Belle, and three team-mates (including one mandatory woman) came up trumps in the recent 200km Eden Challenge in the Langeberg/Klein Karoo region.
The team (Van Belle, Trevor Ball, Ugene Nel and Caroline Brawner) shared first place with Team Hunters after a technicality ruled that they would share first place. Van Belle, who acted as team navigator, picks up the story.
"We had won a previous race and thus had a free entry (a saving of a mere R2 000). We knew it would take place in the Heidelberg/Riversdal/Swellendam region.
"This part of the country makes for a close, convenient race, plus it is an area we all wanted to explore as its towering mountains, steep kloofs and varied vegetation are so beautiful."
The epic trek, involving 14 other teams, set out at 04h00 in the Grootvaderbos Nature Reserve with "a run in the mountains". Those who know the endurance required to abseil, canoe, cycle or scramble the tortuous 200km trek will be familiar with these euphemisms.
At the first transition point they changed into cycling gear for 50km of dizzyingly steep inclines and declines, down into the brown, dry Klein Karoo.
Then it was back into running kit to battle it out through mountain fynbos, much of which was taller than the team's Caroline Brawner. "We could see Korintepoort Dam where we were headed and were able to find a trail right through the forest that surrounds the dam," Van Belle commented.
"Off again on our bikes, speeding up hill and down dale before hitting the 20km of flat road that took us into Riversdale.
"At one point we had to stop to wait for a herd of cows to cross the road! There was twice as much bike pushing in this race than any other we'd done but at least there was no bike carrying, which has become all too common in recent adventure races."
Now came Team Energy's coup; Van Belle found a shortcut along a fence, one that shaved 10km off the route.
Soon they were off again for a short run down to the Goukou River. On the way they passed leaders Team Kinetic.
At the next stop the boats were waiting in a tangle of water hyacinth; too dense for paddling. "Fortunately Ugene remembered there was a place below where there was access to clear water."
The team moved quickly into first place. "Trevor could smell victory!" Van Belle remarked.
At the mouth of the river at Stilbaai the team set off on a 10km jog and then it was back on the bikes for the final leg; 22km of hills and sand in Rein's Reserve. Team Energy eventually reached the tarred road that took them the last 5km to the finish line, in a record-breaking 26 hours and 22 minutes.
"We got to the finish before the TV cameras, so there wasn't much fanfare, but at least someone managed to find some champagne," Van Belle noted.
---
This work is licensed under a Creative Commons Attribution-NoDerivatives 4.0 International License.
Please view the republishing articles page for more information.
---