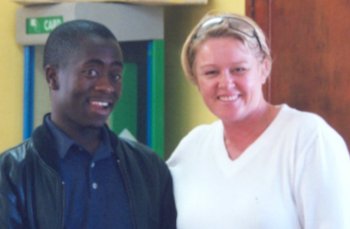 Healthy minds: Soccer coach and group leader Donal (Mboyz) Msuniselwa and Mariette Tigler-Wybrandt from Makulu Creative Solutions.
EMPILWENI, a UCT administered mental health project located in Khayelitsha recently received a R30 000 donation from Cape Town-based Makulu Creative Solutions. The company's Executive Director of Operations, Mariette Tigler-Wybrandi, said that one of the reasons they were attracted to the project was Empilweni's efforts to uplift the Khayelitsha community by teaching them life skills.
The project serves children, adolescents and their extended families who present emotional and behavioural difficulties. "Our aim is to improve mental health in Khayelitsha through the provision of cost-effective primary mental health care services to children and adolescents, and by developing the capacity of key community members to deal with psychosocial problems," says Dr Catherine Ward of the Department of Psychiatry and Mental Health.
On a recent visit to the centre, Piet Meyer, the Minister of Health for the Provincial Administration of the Western Cape (PAWC), and Dr Linda Hering, Director of the Associated Psychiatric Hospitals, both expressed their admiration for the project and the commitment of the staff to the children of Khayelitsha.
Empilweni is currently funded by the Department for International Development (DFID) and is administered by UCT's Department of Psychiatry and Mental Health.
According to Ward, Empilweni was developed in response to the findings of an epidemiological study conducted during 1992 by UCT. "The study provided evidence of a high rate of psychosocial distress among children and adolescents in Khayelitsha, which was compounded by a lack of appropriate resources to intervene. Both parents and members of representative health committees requested urgent help for their children."
The project personnel consists of five trained community mental health care workers who deliver culturally appropriate services under the supervision of a clinical psychologist and social worker. The centre offers a number of group-based mental health interventions, like a parent support and skills training group, therapy groups for children with behavioural problems, as well as a soccer club for boys to practise life skills taught in their support groups.
The most common mental health problems that are managed include: scholastic difficulties; behaviour problems; conduct disorder; family conflict; depression; anxiety and sexual abuse and rape.
---
This work is licensed under a Creative Commons Attribution-NoDerivatives 4.0 International License.
Please view the republishing articles page for more information.
---