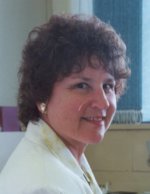 NACI appointment: Professor Jennifer Thomson of the Department of Molecular and Cell Biology at UCT has been appointed to the National Advisory Council on Innovation (NACI) until the end of 2002.
SOME serious rethinking needs to go into the correlation between scientific excellence and the award of research grants to the scientific community in South Africa, says Professor Jennifer Thomson, recently appointed to the National Advisory Council on Innovation (NACI) on invitation of the Minister of Arts, Culture, Science and Technology, Dr Ben Ngubane.
A member of the Department of Molecular and Cell Biology, Thomson's appointment is for the remainder of 2002 when the 21-strong Council's term of office expires.
In a letter to Thomson, Ngubane wrote: "I am convinced that your proven expertise in the field of microbiology will add value to the work of NACI, which advises me on, among others, issues pertaining to new priority areas in science and technology. I hope that your membership of NACI and participation in advice formulation at the national level of innovation policy will offer new challenges to you."
The criteria for appointment to NACI include "achievement of distinction in any field of science and technology". Thomson's function will be to advise and work closely with the Minister to co-ordinate and stimulate innovation. Her contribution will be in the field of biotechnology.
"Aspects that interest me particularly are the development and maintenance of human resources, in other words, the researchers and developers of innovative science in higher education," she said. "This includes training staff at tertiary level for technical innovation as well as identifying research priorities."
Thomson attended her first NACI meeting on May 23 in Pretoria, and says she is looking forward to the challenges ahead.
"Yes, it is a feather in my cap," she admits when prompted. The Committee, headed by chairperson Dr Roy Marcus, will analyse government spending on research and development, capacity building and the management of science councils.
---
This work is licensed under a Creative Commons Attribution-NoDerivatives 4.0 International License.
Please view the republishing articles page for more information.
---