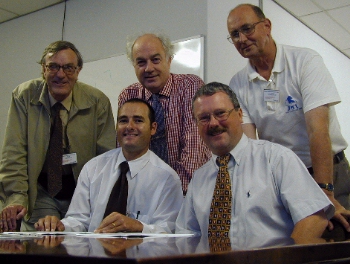 Done deal: From left (back), Prof Geoff Brundrit, Director of the Centre of Marine Studies; Cid Green, Director of GeoSolutions in the UK; and Dr John Rogers from Geological Sciences; and (front), Roger Wallace, Research Contracts Manager, UCT Innovation; and Sandy Borthwick, Managing Director of GeoSolutions (SA), at the signing of the agreement between UCT and Thales GeoSolutions (SA).
UCT AND the Environmental and Metocean Services Division of Thales GeoSolutions (SA) have signed an industrial agreement providing for co-operation on various projects that will result in an exchange of resources between the two.
Thales ranks among the world leaders in integrated survey services and specialises in offshore survey services, including high-precision positioning systems, tracking and telemetry and integrated geosciences. The company focuses on marine environmental sciences and operates one of the largest fleets of survey vessels.
The first addendum to the new agreement was also signed, forming a basis for close co-operation between Thales and UCT's Department of Oceanography. "It is widely accepted that both parties will benefit from the agreement. Thales contributes a wealth of commercial and practical experience, modern equipment and various levels of sponsorship, while the Department of Oceanography provides excellent research facilities, academic expertise and a supply of highly-qualified personnel for the future expansion of the division," said Professor Geoff Brundrit, Director for the Centre of Marine Studies.
"There have always been close ties with the Department of Oceanography as its graduates form the core of the Metocean team. In this way the agreement provides an ideal platform for giving commercial experience to students while identifying top candidates for recruitment."
Included in Thales' sponsorship is a complete portable positioning system comprising a Thales SkyFix Spot DGPS receiver with Geostar software, running on a Psion walkabout. Complete with training, this system will provide various UCT departments with state-of-the-art equipment for fieldtrips, projects and theses.
Stefan Stimson, Metocean Services Division Manager of Thales, added: "We are particularly pleased that this agreement is in place as it gives us the opportunity to invest back into the local oceanographic community.
---
This work is licensed under a Creative Commons Attribution-NoDerivatives 4.0 International License.
Please view the republishing articles page for more information.
---