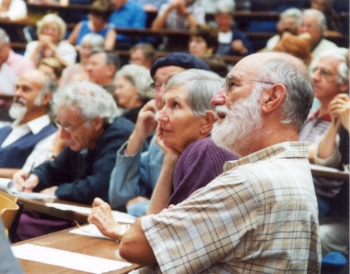 Taking note: The recent Summer School lured more than 3 000 "students" back to the lecture halls at UCT.
WITH NIGH on 3 200 "students" passing through its popular portals, Summer School 2002 – the 52nd in the series – proved to be another hit for the Centre for Extra-Mural Studies.
As per usual, there was plenty to tickle the fancy of prospective delegates, the Centre compiling a spread of 58 courses for this year's gathering. These varied in duration from one-off lectures to, as with the language courses, three-week seminar programmes (continuing for one week after the main event had come to a close).
Among the more popular courses over the event's two-week run, according to the Centre's Terrill Nicolay, were Critic's Choice by Professor Elaine Newton from York University in Canada, From Babylon to Sissinghurst: a history of gardening by Dr Jane Ryan from Ireland, and a number of courses dealing with contemporary issues, such as Fraud in Education. And while retirees provided, as before, the bulk of the Summer School patronage, courses like Chimes of Freedom: the art of Bob Dylan and Contemporary South African Art in Context, attracted a wide range of age groups to the lecture venues this year, reported Nicolay.
The Summer School also earned itself some unsolicited media coverage when The Cape Argus' John Scott penned pieces on the courses that he attended including, "Living Inside the Cosmic Egg".
---
This work is licensed under a Creative Commons Attribution-NoDerivatives 4.0 International License.
Please view the republishing articles page for more information.
---