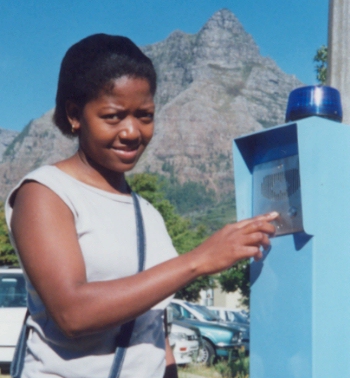 Sending out an SOS: Occupational therapy student Elizabeth Mampane from JP Duminy residence, shows what to do in the case of an emergency along two new "safe walk" routes introduced on campus. The blue emergency beacons are spaced regularly along the routes and feature emergency buttons and intercoms to alert Campus Protection Services who, in turn, will alert Gray Security guards in the area. In addition, CCTV cameras can record any incidents along the route.
UCT has launched two "safe walk" routes, known as the "blue safe routes". Each features blue "SOS" type beacons with emergency call buttons and intercoms, placed at regular intervals along the walkways and linked to Campus Protection Services at Burnage.
Strategically placed CCTV cameras will record any incidents along these walkways and will alert Gray Security staff who patrol these routes.
The first safe walk route follows a course that starts at the rugby fields subway and proceeds across lawns in front of the Summer House, past the Kramer Law Building and the Woolsack Residence, continues along the footbridge across Woolsack Drive and between Kopano and the squash courts, through the Kopano car park past the Baxter residence and ends at Tugwell and Leo Marquard residences.
The second safe walk route starts at the Sports Centre, follows the Rhodes Drive path as it cuts under Rhodes Drive and joins up with the other safe walk route along the footbridge across Woolsack Drive.
The introduction of the safe walk routes is part of a plan to upgrade security on campus. Additional lighting will also be installed along these walkways in the near future. "We encourage all students to use these routes," said Risk Services Manager, John Tunstall.
CPS have also launched a safety booklet for students, Your Guide to Campus Safety, compiled and published by UCT's Department of Communication and Marketing. The guide introduces students to basic security and safety practices on Campus and provides some invaluable CPS emergency numbers, including 24-hour hotline (650-222/3), numbers for fire prevention and sexual harassment protection, as well as the numbers of three local police stations.
The booklet also contains useful advice on crime prevention, tips on personal protection, what to do in the event of sexual assault or rape, as well as health and safety emergency procedures.
---
This work is licensed under a Creative Commons Attribution-NoDerivatives 4.0 International License.
Please view the republishing articles page for more information.
---