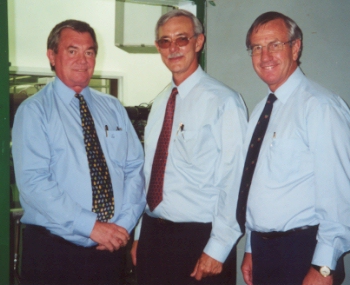 Fuel booster: Photographed at the opening of the new R8-m Sasol Advanced Fuels Research Laboratory at the Mechanical Engineering department were (from left) Professor Kevin Bennett, head of the department; Dr Hannes Botha, Managing Director of Sasol Oil; and Dean of the Faculty of Engineering & the Built Environment, Professor Cyril O'Connor.
IN AN R8-million transaction, Sasol Ltd and UCT have expanded their existing research collaboration by establishing a new Advanced Fuels Research Laboratory within the University's Department of Mechanical Engineering.
The laboratory has been set up for the purpose of researching and developing future automotive fuels. It has been equipped with state-of-the-art facilities for investigating the many different aspects of automotive fuels and engines.
As part of the multi-faceted collaboration agreement, Paul Schaberg, one of Sasol's research personnel, has been seconded to the laboratory and is involved in both teaching and research activities. The laboratory is intended to complement Sasol's existing fuels research facilities in Sasolburg but will emphasise more "future oriented" research activities.
Professor Cyril O'Connor, Dean of the Faculty of Engineering and the Built Environment, said that UCT was delighted that the strong and successful research association that had been built between Sasol and the Department of Chemical Engineering over the past 20 years had been extended into the mechanical engineering domain. "UCT is proud of its reputation as a research and teaching institution of international standing, and the new laboratory will provide an excellent platform for marrying research culture with industrial focus, to the benefit of both partners as well as tertiary education in South Africa as a whole."
Sasol chief executive Pieter Cox said the company's association with UCT formed another step in the company's investment in the development of science and technology in South Africa. "Sasol's existing research and development facilities in Sasolburg, with its diverse staff, already count among the best in the world and we foresee that this collaboration with UCT will enhance our competitive advantage as a world leader in the production of high-quality, environment-friendly synthetic fuels.
He added that the development of local expertise in the field of fuel formulation was an important consideration for the company as it strengthened South Africa's scientific status in the world.
Dr Johan Botha, Sasol Oil's General Manager Technology, visited the new facility last month. "The laboratory represents a direct and meaningful contribution towards building capacity at the tertiary education level in South Africa," he said. "We would like to stimulate interest in and research activity in the automotive fuels field, developing high-level skills that will ultimately benefit our industry as well many other related industries in South Africa." Botha said he regarded the collaboration as a win-win situation. "UCT benefits from a multi-million rand investment in students as well as projects, equipment and knowledge transfer from industry. Sasol benefits by gaining access to significant research resources and capacity within the University. We see this as a further investment in South Africa's future and we look forward to reaping the many benefits."
The laboratory became operational in February and one of the immediate areas of research focus is Sasol's environment-friendly gas-to-liquids fuel technology, with particular emphasis on combustion processes.
---
This work is licensed under a Creative Commons Attribution-NoDerivatives 4.0 International License.
Please view the republishing articles page for more information.
---