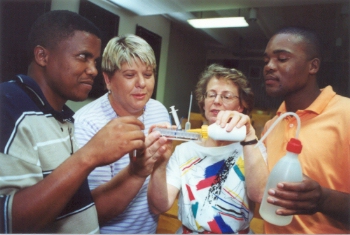 Lotions and potions: Nelson Konza (far left) and Jimmy Mgwaly (far right) of the Hector Peterson Secondary School get a few chemistry tips from SDU's Alta Greeff (left centre) and Dr Bette Davidowitz of the UCT Department of Chemistry.
THE SCHOOLS Development Unit (SDU) got its packed 2002 Teacher Enrichment Programme (TEP) off to an early start, attracting teachers from all around the Western Cape, as well as a number of UCT lecturers, to its first semester courses.
This included a series of workshops on The Wonder of Chemical Reactions, presented by Dr Bette Davidowitz of the Department of Chemistry with assistance from the SDU's Alta Greeff – a former schoolteacher. About 20 chemistry teachers trekked to UCT for one session per week for four weeks, during which Greeff and Davidowitz guided them through worksheets and experiments.
The two based their series of teacher workshops on work they did for the Department of Chemistry's Academic Development Programme (ADP) over the past few years, explained Davidowitz. They chose four topics from the high school syllabus: heats of reactions, rates of reactions, chemical equilibrium and acids and bases.
An important aim of the workshops – held in lecture venues - was to show teachers how to run experiments using Microscience kits, said Davidowitz. "What we wanted to do was to show teachers that you don't need a laboratory to carry out these experiments," she noted.
The Department of Chemistry generously provided kits and chemicals for the workshops, added Davidowitz. "While we did have sponsorships for the kits, the department carried the costs of the chemicals and the production of worksheets. Teachers were also supplied with kits, chemicals and worksheets to use at their schools."
"We are trying – in our own small way – to make a little bit of a difference."
The TEP has a range of programmes lined up for the rest of year, many offered by UCT lecturers and researchers.
---
This work is licensed under a Creative Commons Attribution-NoDerivatives 4.0 International License.
Please view the republishing articles page for more information.
---