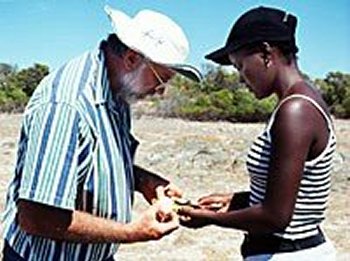 Professor Les Underhill with former Honours student Fikile Hlatshwayo.
UCT HONOURS its Distinguished Teachers on a regular basis, but in between the formal acknowledgements of great tutoring and mentorship are stories like that of UCT graduate Fikile Hlatshwayo.
Hlatshwayo contacted Monday Paper with the express purpose of publicly thanking the person she feels she owes most of her academic success to: Professor Les Underhill, her former statistics lecturer and Honours thesis supervisor.
Hlatshwayo says that she could not have graduated or been top of her class last year were it not for Underhill's dedication and guidance. "If not for his encouragement and faith in me I do not think I would have got very far. He always had time for me."
The two first crossed paths while Hlatshwayo was reading for her BComm degree and Underhill was lecturing her major, statistics. Struggling with a subject she enjoyed, Hlatshwayo was constantly in consultation with her lecturer for encouragement and advice. She passed the course and graduated but her desire to continue into the Statistics Honours programme was almost quashed because she did not meet the Department's requirements.
"I was ready to give up but Les believed in me. He knew what I was capable of and he felt that if given a chance I could do well, so he spoke to the course co-ordinator," explains Hlatshwayo.
Underhill extended his help even further when he secured Hlatshwayo, who was having financial difficulties, a R8 000 grant from the National Research Foundation (NRF) for her thesis, which concentrated on the breeding biology of penguins. "I was worried about the course, money, etc, and the grant that he organised just took a load off my mind, and I was able to concentrate fully on my studies."
The grant helped to fund Hlatshwayo's trips to Robben Island, among other things, to measure incubated penguin eggs. This involved a rather tricky process of coaxing the penguins off their eggs. The objectives of her research were to estimate the breeding success of the African Penguin, using particular statistics models, and to estimate when the eggs were laid in order to know when they were likely to hatch.
"It was an unusual project to do coming from a BComm background. But it shows how versatile a statistics student can be," she said excitedly. Her project got the second best mark in the class and she firmly believes none of it would have been possible without Underhill's' help.
---
This work is licensed under a Creative Commons Attribution-NoDerivatives 4.0 International License.
Please view the republishing articles page for more information.
---