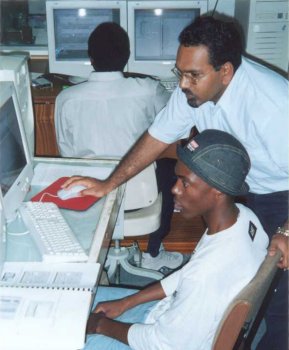 Training time: Petroleum Studies Honours student Nzumbu Vele gets some personal attention from Landmark trainer, Brenton Moonsamy.
AN ERITREAN Masters student on the Petroleum Studies course, Habte Seyoum, will use highly technological software, sponsored by Landmark Graphics, to produce invaluable geophysical data on Eritrea.
Seyoum, along with fellow Petroleum Studies students Numze Vele, Estevao Sitoe and Ramiro Nguiraze, underwent the three-day training course, learning how to use the Geographix Discovery software. This is one of the PC-based packages that Landmark have developed as part of an interpretation package for petroleum geoscientists. The trainer was Brenton Moonsamy.
The software and services, donated to the Department last year, are valued at R7-million and include GeoGraphix and Promax 2D/3D software. Geological Sciences students thus have access to some of the most technologically advanced information technology (IT) products available in the oil and gas industry today. The software provides students in the petroleum studies programme with invaluable, hands-on experience in seismic processing and 3-D seismic interpretation.
The South African Petroleum Studies programme is a young course presented jointly by UCT and the Universities of Stellenbosch and Western Cape with each institution teaching a different component of the programme. The aim is to train the petroleum geologists and geophysicists needed for the burgeoning oil and gas fields in South Africa. Funding is by the Upstream Training Trust, the Central Energy Fund and Energy Africa.
"We're very grateful to have an association with Landmark. Through their generosity, very valuable technologically advanced software and training have been made available to us," said Professor Anton le Roex, Head of Department, Geological Sciences.
Franco Uliana, Accounts executive for Landmark Graphics, Sub-Saharan Africa (South) added: "We're proud to be associated with the education of young Africans and we're looking down the line at the opportunities that will be created for emerging experts. We want to become involved in Africa and we see this petroleum studies programme we're running as a way to make contact with the students, exposing them to our products."
---
This work is licensed under a Creative Commons Attribution-NoDerivatives 4.0 International License.
Please view the republishing articles page for more information.
---